Online Masterclass – Post Incident Review
June 3, 2021, 9:30 am

-

June 4, 2021, 1:00 pm
Major Incident Managers and Problem Managers' work is never over; even when cause is found and corrected, the systems are all up and healthy, the demands for detailed explanations about what happened consume huge amounts of effort. At the same time, we have all seen that the most important action items can be neglected, so increasing the chances that similar incidents will occur. Root cause has been justly attacked as a concept, for failing to take into account the complexity of factors that can lead to a systems meltdown.
For all these reasons we're offering a straightforward way to show the relationships between a variety of different causal factors, in a practical case-led event.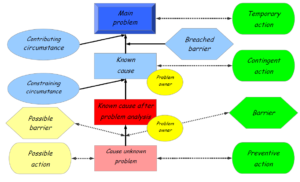 Facilitated by Andrew Vermes, a Senior Consultant at Kepner-Tregoe who works daily with major technology clients on improving incident management processes; the masterclass is designed for Major Incident Managers, Problem managers, and others responsible for creating effective Post-Incident review reports.
What will it involve?
In this interactive event we will focus on how the Kepner-Tregoe Incident Mapping approach can help you to:
Identify the relationships between causal factors
Pick out areas for process improvement
Identify which backup processes failed and why
Show how different uncontrolled circumstances made the incident worse
Pull the overview together in a single graphic that tells the story accurately
Attendees are welcome, and encouraged, to bring their own real-world scenarios for discussion if they are comfortable with sharing them.
Delivery Platform
This online Masterclass will be delivered over two days, during the hours of 09:30 – 13:00 each day, using the Cisco WebEx platform – taking advantage of the platform functionality to allow active participation and group discussion.  You can test your compatibility here.
How much does it cost?
Places are available to itSMF UK members for £295.00 + VAT.
Not yet a member? You'll be shown a price of £460 + VAT which includes an 'Individual' level annual membership.  To find out about other membership levels, benefits and costs please click here.
Please contact the office on +44 (0) 118 918 6500 to discuss a dedicated delivery of this event for your organisation.
online remote