Online Masterclass – Digital Transformation Simulation
May 21, 2021, 9:30 am

-

1:30 pm
This NEW simulation from SXP, the Digital Transformation Simulation (DTX-i) offers a unique opportunity to experience the next generation of IT enterprise business simulations. DTX-i is a highly immersive, virtual, single player strategy simulation that engages and educates individuals at scale.  This web-based experience provides insight to technology leaders and their organisations about the core components and landscape of Digital Transformation. It simulates a complex enterprise business model that educates players on the strategic Digital Transformation choices facing organisations and gives instant feedback on their impact on organisational performance.
What to Expect
There is a strong business context, and the simulation offers the chance to explore the enablers of key business imperatives, such as:
Customer Centricity
Organisational Agility
Speed to Market
Increased Quality
Reduced Risk
Greater Efficiency
Increased Stability & Resilience
Objectives
Show the strategic challenges that organisations face in enterprise Digital Transformation
Give insight into the key success factors that should be considered in Digital Transformation, such as: stability, agility, customer experience, and key financial indicators
Give an experience of technology practices and the tools that enable Digital Transformation
Give an insight into different 'ways of working' such as: ITSM, DevOps, Agile and Lean
Demonstrate the need for whole enterprise collaboration, raising awareness of the potential upstream/downstream impacts of siloed thinking and decision making
Show the enterprise-wide impacts of decisions that might be made in the real world
How does it work?
As the Transformation Director for Global Air, your mission is to lead a legacy business into a new digital paradigm, where it can compete at the top of the market. You must analyse data and execute a number of actions across the IT enterprise to improve business performance. In so doing, you will have to consider, experiment and observe the impact of your choices and how they might play out in the real world.
Alongside other delegates, you will be playing solo as part of a facilitated workshop. Your aims in the simulation are:
Improve the delivery of new and existing services for Global Air
Implement strategies, including elements of ITSM, DevOps and Agile
Reach the top 50 airlines on the leader board
Compete against your fellow workshop delegates
As part of the facilitation, you will be guided through a learning cycle that allows you to learn from the experience as you play through the simulation.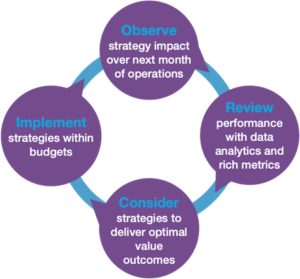 Delivery Platform
This online Simulation will be facilitated using the Zoom platform and browser based simulation environment.
How much does it cost?
This event is FREE for itSMF UK members.
Not yet a member? You'll be shown a price of £165 + VAT which includes an 'Individual' level annual membership.  To find out about other membership levels, benefits and costs please click here.
Please contact the office on 0118 918 6500 to discuss an on-site running of this event.