Masterclass – Business Information Management (BiSL)
October 17, 2019, 9:30 am

-

5:00 pm
Implementing streamlined and holistic information management systems is essential to the smooth delivery of modern businesses' interconnected services. The BiSL Next Framework, will enable you to prioritise the wider vision of the enterprise over the operational method of responding to information incidents.
By focussing on what the enterprise needs to achieve from the management of its data – you will be able to fulfil an invaluable business strategist role, able to guide the enterprise through its entire data management transformation.
Facilitated by Brian Johnson, an independent consultant who is industry recognised for his IT service management (ITSM) knowledge and experience; the masterclass is designed for business information managers and is ideal for any roles which drive the enhancement of how businesses manage their data.
What will it involve?
In this one-day interactive event we will focus on the skills and knowledge required to transform the way an enterprise manages its data – with the mission to enhance business performance and value:
The basic terms and definitions of business information management
The BiSL Next model's structure – which supports the guidance for transforming enterprise data management:
The four activity domains, perspectives and drivers: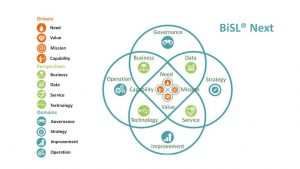 The opportunities provided by BIM and how to capitalise on them
How the BiSL Next Framework relates to existing frameworks in Business Service Development and how it drives the development life-cycle
Creating and maintaining effective policies pertaining to 'who does what' and 'who is authorised to do what'
What are the key benefits of attending?
Benefits include, but are not limited to:
Utilise the BiSL Next Framework to optimise the management of business information
Drive the implementation of IT solutions which consider how the enterprise will manage its data in the future
Offer strategic direction on how to upgrade or utilise technology to optimally serve the business needs
Advise on effective and appropriate solutions to information gathering i.e. use of third party consultants
Ensure any proposed improvements, be it process, technology or methodology – provide benefit
Translate business strategy into clearly directed, value-driven and cost-effective IT projects
All attendees will also receive a copy of 'BiSL Next – A framework for Business Information' publication to take away from the day.
How much does it cost?
Places are available to itSMF UK members for £295.00 + VAT.
Not yet a member? You'll be shown a price of £460 + VAT which includes an 'Individual' level annual membership. To find out about other membership levels, benefits and costs please click here.
Please contact the office on 0118 918 6500 to discuss an on-site running of this event.
Manchester