As the dust settles on itSMF UK's Annual Conference (ITSM18) and some of the great content that was shared and discussed there, I want to ponder on the 'are we still relevant' debate.
I took part in the panel debate on this topic on the second day of the conference – the room was full and we had great contributions on the panel from Karen Ferris, Ian Penny, David Wheable, and Dave Green; and the session was well moderated by Alan Nance of Virtual Clarity. I was also delighted that Malcolm Fry was involved in the session and given recognition of his rightful place as a real thought leader in our community.
Overall, I was pleased with the direction of the debate, which really focussed on the need for change and the recognition that we must move with the times. We also discussed emotional intelligence, professionalism, soft skills, business strategy, people and human capabilities and skills, as well as automation and technology developments. Frameworks and models were mentioned and identified as valuable in some cases and necessary in others. The focus however was on how we respond to change, using our knowledge and skills and the tools at our disposal, not whether frameworks were or weren't needed.
In some discussions leading up to the conference and the debate I felt that there was an expectation that the panel session was going to turn into a 'battle of framework-relevance', and I was glad that this was avoided. Frameworks and standards are what they are – part of the toolbox, not the only tool – a spanner or screwdriver for specific functions, not a swiss army knife as a panacea for all.
The focus on what we do and how we do it – using communications skills, new business models, automation, and new ways of thinking – is rightly taking centre stage in our work and thank goodness for that. As a co-author of various models, standards, and frameworks over the years I completely concur. Most of the work I've done (and still do) in consulting is around management, people, and change, not workflow and RACI.
The Importance of Service Management
In terms of relevance, I truly believe that 'service management' is more relavant and vital than ever:
How we engage and work with colleagues, users, customers and partners
The way that we work to meet business needs, demonstrate value, develop our value streams and manage complexity, use tools and work practices to deliver products and services
The approach that we take to managing risk, accountability, time-to-market, and efficiency
How we develop new and updated products and services to deliver business outcomes – both from design and build to run and support
How we account for and safeguard the intellectual and knowledge resources of our customers – particularly with cloud and distributed models.
All of these are 'service management' activities, which we have experience of creating, managing, and running, even when the technology and business contexts change. As these contexts have and continue to change, the way we do these things becomes more critical as it is the one common area where we as providers can exercise ownership, governance, and accountability. That's what service management is – not (just) incident management, service desk, or capacity planning etc., but the holistic orchestration of components and capabilities to deliver a whole business service and experience.
Tools, frameworks, and standards are of course still useful and relevant to achieve this (as long as they move with the times too). However, they're only part of the picture which must include how we as people interact, communicate, and develop our own skills. To stay relevant, we need to move with the times, keep our skills up to date, and be aware of new ideas. At the debate Malcolm Fry raised a key point around how we can get more early 'digital' learning into the school curriculum – we do need action on this now!
We also need to ensure that we don't lose some of the knowledge and experience we've developed over the last 30-40 years too, much of which – particularly around how we cope with change – is now more relevant than ever. So, whilst we focus on the new and the next generation of work, we shouldn't forget that we also have a lot of experience around organisational change, people management, marketing and communications, motivation etc – as well as some proven practices.
Digital transformation must be seen as a challenge and opportunity for us as humans – how we react to change as much as how we implement new technology.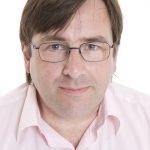 Barclay Rae has extensive experience as a consultant, analyst and subject matter expert in IT Service Management. He is the Lead Editor of ITIL 4 Create Deliver Support (CDS) Managing Professional guide, a member of the ITIL 4 Architect team and a co-author of ITIL Practitioner.
He also has considerable business and management experience in the industry, both as a consultancy vendor and also working with industry bodies and vendors such as SDI, AXELOS, APMG, and Axios. He brings industry and subject knowledge to ITSMF UK's strategic direction, as well as practical experience and commercial skills in running a small business organisation.