Two weeks ago, we held our annual itSMF UK conference (ITSM17) and it was a cracker. Delegates gave us fantastic feedback, sponsors and exhibitors loved the buzz, and even those that weren't there in person got a sense of the event through an extensive social media presence (search #ITSM17 on Twitter).
It's an exciting time for the IT service management (ITSM) industry, with new and refreshed frameworks in progress – as well as the continued growth of other models. Ultimately, the digital imperative is on all of us – we need to change, up our game, be part of the business, and collaborate better – so our use of models and frameworks will be more like a 'pick and mix' than a single commitment going forward. And our industry needs to celebrate diversity more than ever…
Conference Statistics and Feedback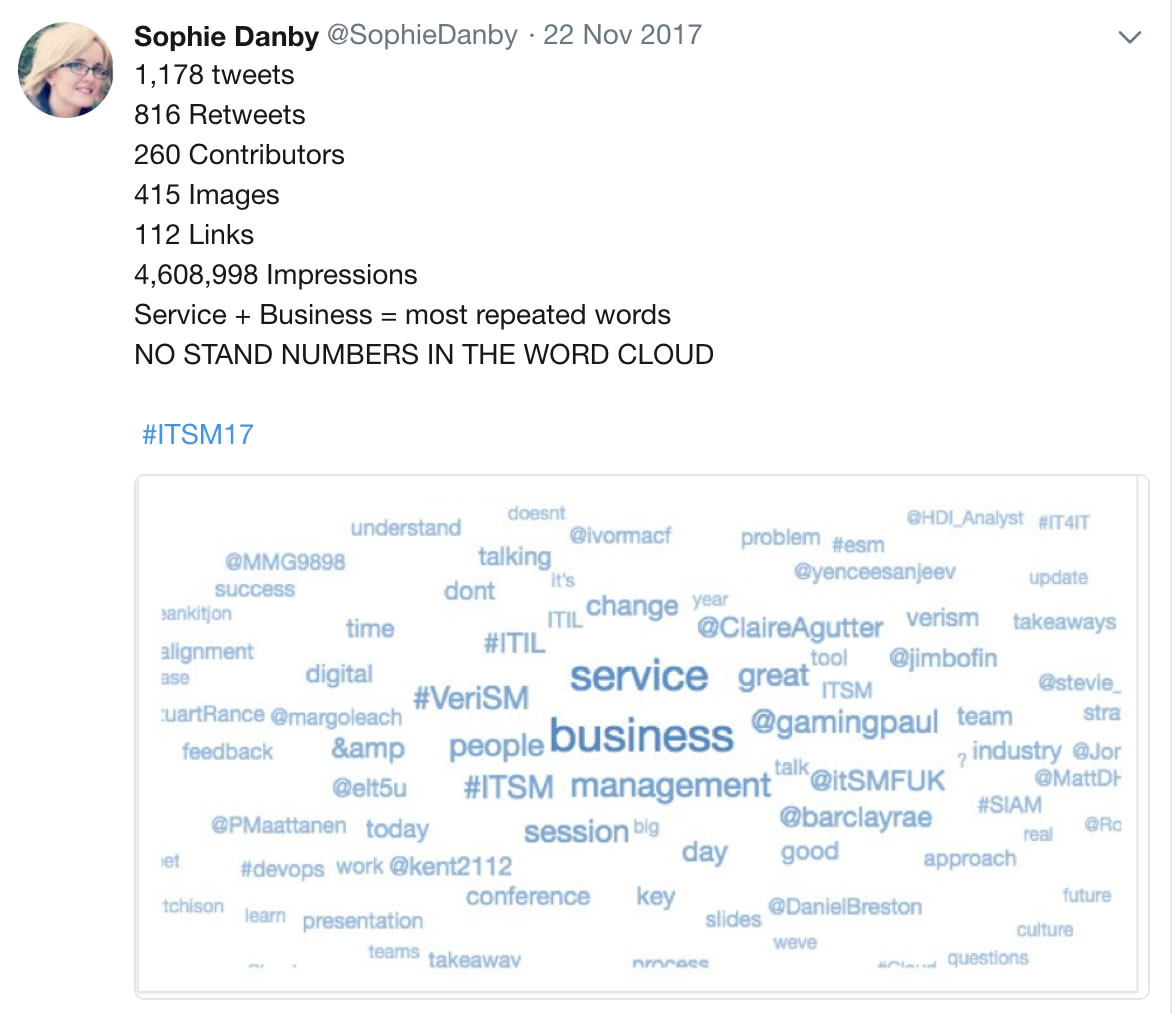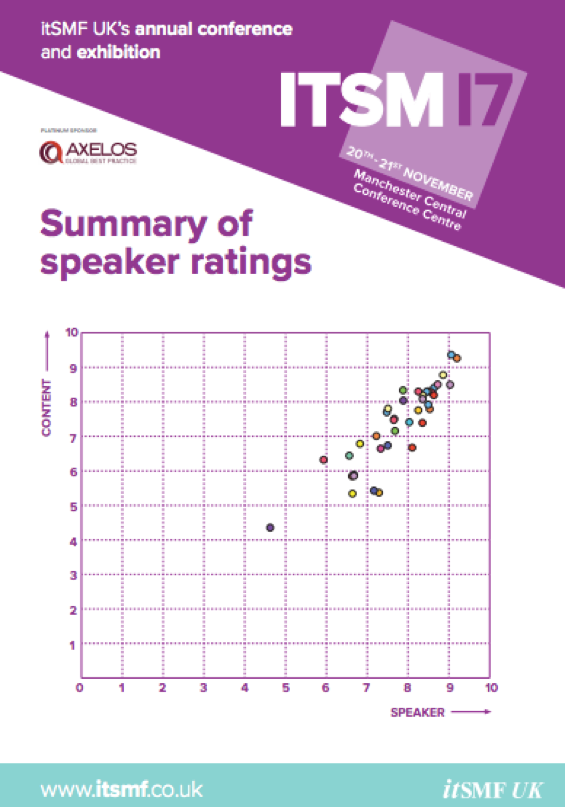 Top Overall Sessions
#
Presenter
Average Score
1
Jon Terry
9.26
2
Craig Johnson
9.23
3
Ivor Macfarlane
8.88
4
Daniel Breston
8.77
5
Kevin Holland
8.61
6
Paul Wilkinson
8.53
7
Simon Kent
8.46
8
Tony Price
8.4
9
Barclay Rae / Stuart Rance
8.39
10
Andrew Vermes
8.36
We also carried out a number of industry interviews with conference attendees – you can watch them here. Plus, there are also recordings of the opening keynote and the initial presentations from both days' morning plenary sessions, including Bob Brown on day one and interviews with Claire Agutter, on VeriSM, and Margo Leach, on ITIL, on day 2, click here to take a look…
The conference's use of new ideas and innovations worked well too – from the simple wallcharts to capture immediate session feedback, to our thank you card initiative, to the CAT (conference analysis team), which reviewed every session and summarised the key elements in the final plenary discussion.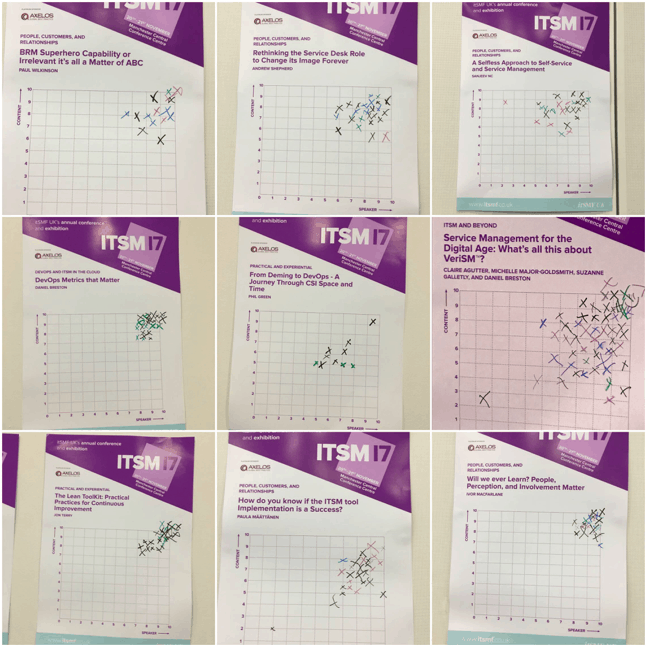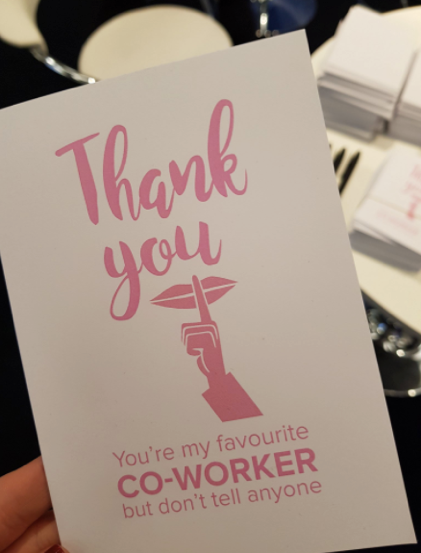 Conference Analysis Team Common Themes
Change is a reality – digital, artificial intelligence (AI), and machine learning, as well as (of course) DevOps – these things are here and coming fast, so we can't ignore them.
People – they are still at the heart of our work and industry. We need to recognise the need for emotional engagement, positive behaviours, and where service management people are agents of change and engagement, not simply firefighters. However, the biggest challenge remains – how can we engage more young people in service management?
Industry developments – after a long period of inactivity, much is happening around new and upgraded ITSM models – ITIL, SIAM, VeriSM, ISO20K, Cynefin etc. Whilst many of these will offer new opportunities, it's important to see them all as tools and not panaceas; and with ITIL and VeriSM, it's too early to make any real judgements at this stage as there's little detail and content available.
Partnership – we must continue to focus on value for our businesses (and customers' businesses) in partnership and as part of these supply chains and not separate from them. We are the business, so let's not continue to promote separation and distance from our 'customers' (internal or external). Instead, let's see ourselves as being part of the same team and organisation.
Let it go – ultimately service management people keep the business world ticking over, our place in this is changing for the better, and we are moving to being recognised as a more strategic and less reactive function. Our focus for too long has been on specific frameworks and processes – all of which are useful, but none of which should be the sole emphasis of our activities. We also need to ensure that we focus on continuous improvement, using business-focussed metrics and not simply being slaves to the service level agreement (SLA).
All these points were discussed at the plenary panel session – please look out for blogs over the coming weeks and months to support these points. We also have a call for practitioners to join us next year to present what they've done to improve things based on what they learned at the 2017 conference – if you would like to be part of this, please get in touch.
Other Points of Note
At the conference we also announced the launch of a new itSMF UK subsidiary company – EssentialSM – this will provide short independent consultancy assignments that help organisations to deliver improvements quickly. This includes some focused packages – please see more on EssentialSM packages here.
We also launched two new papers – one with CIO Watercooler and another with Cherwell – we also have a sponsored video that discusses professionalism, shortly to be released in conjunction with Cherwell.
Whilst you are here, let me also inform you of the dates for your diary for ITSM18 – 19th November – 20th November which will take place in London with a new slick format. This will cover two days, the first of which will be a traditional four stream conference. On the second day, however, we will be running mostly workshops, discussion groups, industry meetings, and sponsored events, in addition to one or two conference streams with key sessions from day one. If you have any input or thoughts on this or the format of our future conferences please let us know.
More conference outputs will follow, but now I'll let you get back to your Christmas shopping…
P.S. If you are looking for a Christmas gift for a colleague, we have already planned a whole year of activities for 2018 – you can view our full calendar of events here – perhaps an opportunity to join an itSMF UK workshop or one of our other events would be the perfect stocking filler?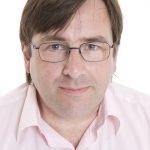 Barclay Rae has extensive experience as a consultant, analyst and subject matter expert in IT Service Management. He is the Lead Editor of ITIL 4 Create Deliver Support (CDS) Managing Professional guide, a member of the ITIL 4 Architect team and a co-author of ITIL Practitioner.
He also has considerable business and management experience in the industry, both as a consultancy vendor and also working with industry bodies and vendors such as SDI, AXELOS, APMG, and Axios. He brings industry and subject knowledge to ITSMF UK's strategic direction, as well as practical experience and commercial skills in running a small business organisation.