I finally became a consultant and trainer after years of being a CIO or IT Director. I had always been in IT and held many of the typical roles: Service Desk Manager, Enterprise Architect, Data Centre Director, and more. I had helped organisations use the principles and practices of ITSM to encourage collaboration across IT and the rest of the business. One Friday, a recruiter called asking if I would join a team in Belgium introducing Lean into a bank. Naturally, with the benefit of over 30 years of experience, I asked…
What the heck is Lean?
Lean. Think of this word. What does it mean to you? How does it make you feel? Slim, decreasing waistline, ability to move quickly or improve yourself or your business repeatedly? If these are your thoughts, then you appreciate why Daniel Jones and Jim Womack chose this word in the 1990s to describe what they had learned from the works of Demming, Goldratt, and Toyota. They had no idea that Lean would become today's pervasive movement, with thousands of organisations benefiting from the value, practices, and principles. Nor did they consider that Lean would also mean you're being fired and replaced by automation or a vendor (through SaaS).
As members of itSMF UK, we practise mainly ITIL but also COBIT, various Agile practices and DevOps. When I asked the community about Lean, they all pointed to manufacturing. We knew that Lean and IT would never mix. So I went to Belgium via a Paris conference that introduced me to the significant lean leaders: Daniel Jones, Stephen Bell, Mike Orzen and others. In his opening address, Daniel stated: "I have been in Lean for over 20 years, and I can tell you now that Lean has no place in IT." Five years later, he began his keynote with an apology. Lean had blended with every significant technology practice with ease, especially DevOps.
Why? How?
I believe the secret of blending practices such as DevOps and Lean is to understand that they rely on the same basic values and principles:
Lead at every level by coaching and helping
Visualise work to help improve it
Put metrics in place that matter and align work to the organisation's customers
Obtain feedback as often as possible
Fix first, deliver often
And more.
Leaders say go do (fill in the blank) by X date. Lean says, go be lean and along the way you will make mistakes, so benefit from a coach to guide your efforts. This coach will turn you into a leader (guide) in supporting your teams as they find better ways to work. A no-blame culture is key to the success of the Lean approach, as trying is the best way to learn and improve the process under review.
Fix first, then deploy
How many releases are actually 'tested' in production? Rarely do test environments match production, even though it is relatively simple to create a testbed in the Cloud. So your first real test is when it goes live. Lean suggests that you never let an issue go past without addressing it. Fix first.
How often do we create detailed (and sometimes physically separate) incident, problem, change and release processes or teams? Lean suggests you look at the issue in hand from the customer's viewpoint. They want their request fulfilled or they want their problem resolved. Do this, and they are satisfied. Don't do this, and you risk losing a customer. This is what Lean (or ITIL 4) means by allowing the customer to pull from your services and ensure that your value is clearly recognised by the end user involved no matter what the request or issue. Value Stream Mapping provides an excellent technique to view the process and identify possible improvements towards achieving a customer-centric culture.
A big change in attitude and behaviour
The philosophy behind the technology we use should focus on the following key elements:
Whatever initiative or approach we are applying needs to be of value to someone else and not just us. If it is not, stop doing it.
Leaders have to model this philosophy daily.
People need to be able to visualise their flow of value which encourages them to contribute to improvements via experimentation of new ways.
Leaders must spot obstacles and act as guides. They do not necessarily have all of the solutions or a treasure trove of best practices; therefore collaboration across the value stream is required at all times.
Automation is an enabler towards freeing people up to further improvement tasks.
Metrics that matter are real-time driven and agreed at all levels.
Way back in 2019, to do something new meant preparing a business case, setting up a team and doing all sorts of things which would take time and energy. Then the pandemic hit in 2020 and, within a short space of time, our organisations completely changed the way we used and benefited from technology. Did we put all the controls in place that our 2019 practices prescribed, or did we just use a set of guard-rails and a lot of judgement? Would you go back to 2019 methods?
This is Lean IT. In his Masterclass on the subject, Dan will briefly review the history and impact of Lean on IT and then start to apply the lean practices of visualisation, problem-solving and leadership to help create a better, safer and more enjoyable place of work. Interested? Then please register!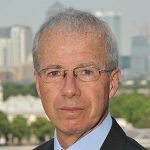 Daniel has a particular interest in financial services, insurance, high-transaction companies, or small companies beginning to wonder how to scale to the next step. He has a wide range of experience in infrastructure, cloud computing, application management, service desk, and development. Daniel loves the opportunities of DevOps; that blend of Agile, Scrum, Theory of Constraints, Enterprise Architecture, Supplier Integration (SIAM) and ITSM. He particularly focuses on leadership and middle management as they struggle with the opportunities presented by digital technology and cloud based services.