We're now just 100 days away from our two-day annual Conference and Exhibition, which takes place in Bishopsgate, Central London on 18-19 November. Featuring inspiring keynotes, four streams of educational breakouts, interactive workshops and hands-on case studies, the event is an invaluable source of industry information and networking opportunities.
Topics covered in ITSM19 include:
digital transformation
skills and professionalism
artificial intelligence
agile ITSM
customer experience
incident and knowledge management
service integration.
There's truly something for everyone at this year's Conference. Some of the highlights of the programme include:
Greg Searle MBE, who won Olympic gold as a rower in 1992 with his brother Jonny, came out of retirement at 40 and set himself the vision of winning a second gold in 2012 to inspire a new generation. He very nearly achieved his goal, clinching a bronze medal in London. The motivation and drive behind this feat form the background to a remarkable opening keynote. Definitely one not to miss!
Developing ITIL 4 Managing Professional and Strategic Leader
Find out about the next step in the development of ITIL 4 from AXELOS' Akshay Anand, and chat with the authors of the content to discover how ITIL 4 will help organisations meet business goals and drive stakeholder value through services.
Service Management Room 101
What are your particular bugbears with service management? What do you think should be consigned to Room 101? Join us on Tuesday morning for a light-hearted ITSM slant on the popular TV series.
Mental Health First Aid awareness
Following Thomas Jordan's very popular keynote at ITSM18 on mental health in the workplace, itSMF UK chair Rosemary Gurney tackles a topic that is changing our whole perception of the 'guy at the next desk' and how we can best support him.
Round off day 2 with an update from David Wheable and Duncan Watkins of Forrester Research about the latest industry trends and developments.
BOOK YOUR PLACE AT www.itsmf.co.uk/itsm19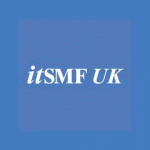 itSMF UK is the country's leading membership association for service management professionals – with members ranging from individual service management practitioners to large multinational organisations.
We have spent the last three decades helping ITSM professionals both to be better and to do better. As the first of an international network of itSMF chapters, it has followed a path of enriching the working lives of its members, as well as those who benefit from its events, training and guidance, and those recognised by its annual awards.