Create Deliver Support (CDS) – is one of the 4 Managing Professional guides for ITIL 4 from AXELOS, offering some truly original thinking around the core ITSM practices and the value they contribute to the business.
CDS offers a holistic view of all service delivery activity, from idea to reality, from demand to value, and from design, build and test through to management and support. It is designed to provide practical knowledge and guidance for all those involved in developing and managing services, with a particular focus on perspective and flexibility.
Perspective is seen through the lens of professionalism, as the various practices, skills and areas of knowledge that are required to achieve success in service management are examined in detail. Flexibility is delivered through in-depth guidance for building and managing value streams, combining processes, practices and other elements together to provide a more agile and responsive approach to service delivery.
Within this context, CDS covers a broad range of subjects that contribute to this holistic view, including people management, customer focus, tools, procurement, managing work and queues, culture, testing, and many other aspects of the professional's toolkit. There are also key areas on guidance around 'shift left' – moving work to the most effective place – plus also a step by step approach to mapping and building end-to-end 'value streams'.
The CDS approach
CDS is aimed at 2 key audience groups:
current ITSM people who identify as (IT) service management professionals
those who interact with service professional as part of the wider service value system – i.e. technical architects, developers, engineers and others in the cycle of building and supporting technology services.
For those in ITSM, CDS helps to view the whole ITIL 4-based service lifecycle as a single entity and see what is needed (beyond simple process) to make this work. For those in other areas, CDS is useful to see where they need to fit in as part of the cycle. Service is not an insular entity and the CDS approach takes candidates on the journey from siloed ways of working to collaborative value co-creation. In other words this begins the process of uniting the approaches of traditional ITSM with agile, DevOps and other new ways of thinking and working.
ITIL is not a run book or rule book – collaboration and shared purpose are essential. There are areas in this book that have been identified for some time as important or even necessary to achieve success. These may not be new ideas for many but this is the first time that man of these concepts are included explicitly as part of the expanding reach of ITIL. This gives clear guidance that these 'new' ideas are actually important and essential part of the practitioners tool-kit.
'New' elements – include:
Employee well-being – understanding how to gauge the relevant morale levels and engagement levels of your people
Customer mindset – ensuring that customer perspective is included in service design and support, service empathy
Teamwork – how to build and maintain effective teams and use relevant approaches
Organisational structure – understanding different types of organisations and structures
Types of work and ways of working – managing bugs, queues and tickets
AI and new tools – automation, robotics, advanced analytics, machine learning
Shift Left – flow and effectiveness, shift left for support and development
Value streams – mapping and building value streams for support and new products
Commercial skills and focus – managing partners, procurement, sourcing
Getting the message out
As a member of the ITIL 4 Architect Team, I have been very keen to spread the messages embodied in CDS at every opportunity, but circumstances have admittedly made this difficult. The book was physically published a few weeks before the pandemic lockdown – though a digital version was previously available and the core content areas had also been used in the Managing Professional transition course since Autumn 2019. I've seen generally good feedback although the scale of awareness and publicity has been limited to date.
The forthcoming itSMF UK webinar (view event) offers a great opportunity to address this lack of exposure and share some of the key aspects and benefits of the new publication. In the webinar there will be some initial reference to key ITIL 4 concepts, plus a walk-through of some of the new and augmented elements in relation to the ITIL 4 Four Dimensions – Organisations and People, Value Streams and Processes, Partners and Suppliers and Information and Technology. Then we will dig deeper into the key messages of CDS and its role within the service delivery environment.
I would also draw your attention to two key CDS resources in which I have been involved:
• AXELOS CDS Podcast with Akshay Anand: LINK
• AXELOS paper, CDS in 1000 words: LINK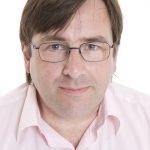 Barclay Rae has extensive experience as a consultant, analyst and subject matter expert in IT Service Management. He is the Lead Editor of ITIL 4 Create Deliver Support (CDS) Managing Professional guide, a member of the ITIL 4 Architect team and a co-author of ITIL Practitioner.
He also has considerable business and management experience in the industry, both as a consultancy vendor and also working with industry bodies and vendors such as SDI, AXELOS, APMG, and Axios. He brings industry and subject knowledge to ITSMF UK's strategic direction, as well as practical experience and commercial skills in running a small business organisation.