As mentioned in our Member Events blog in August, itSMF UK have been reviewing our Specialist Interest Groups (SIGs) to decide whether they are still structured and formatted in the best way to suit our members' needs, especially in a world reshaped by COVID-19. The conclusion of this review was that a refresh was needed and work is now well underway to consolidate the SIG groups into more modern Communities of Practice.
There will be three Communities of Practice initially and that number may be flexed and expanded as the needs of the itSMF UK member community changes. The three Communities will develop a blend of events (online initially, and hopefully face-to-face when we can again hold physical meetings), knowledge sharing and exchange forums, white papers and reference documents. These will be fully focussed on helping you as Service Management professionals to navigate current industry guidance, and will explore the opportunities for integration between ITIL 4 and other methodologies such as Agile, COBIT and DevOps.
The three initial Communities of Practice will be:
Strategy & Planning 
Chair – Mark Burgess
Purpose – To provide strategic guidance and planning within the Service Management space, including the use of different management frameworks such as ITIL 4, DevOps, COBIT, IT4IT VeriSM, YASM, USMBOK, FitSM etc.​
Design & Transition ​
Chair – Cristan Massey
Purpose – To support the use of UX/CX Design and Service Design and consider ways to close the gap between the various disciplines through Transition​.
Management of Service  ​
Chair – Richard Oliver
Purpose – To consider how to proactively manage services across a business through the use of the ITIL 4 management practices, including the Continual Improvement model.
These are exciting times as we evolve our SIGs into Communities of Practice. Our thanks go to all of the Chairs and members of those SIGs who made such a large contribution to the groups over the years and provided a solid foundation on which to build the Communities.
We invite all our members to drive these Communities with us and make them vibrant and challenging. You can help us ensure that they deliver the context and insight to help you improve your own knowledge and practices.
The Communities will be launched at ITSM2020: the Digital Conference. We will be asking for volunteers from across all categories of membership to be part of the three core Communities and help the Chairs to mobilise them. To that end new terms of reference and charter statements have been drafted up for each of the Communities.
If you'd like to know more about the Communities before the Conference, please contact one of the team:
Claire Burn – Director of Member Groups
Mark Burgess – Chair, Strategy and Planning CoP
Cristan Massey  – Chair, Design and Transition CoP
Richard Oliver –  Chair, Management of Service CoP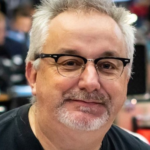 Mark Burgess is a Service Management Consultant, experienced Programme and Portfolio Manager, and itSMF UK Strategy and Planning Community of Practice Chair