This is a guest post, contributed by Joe McGee, Leadership Founder and Consultant at McGee Leadership.
In leadership, whether in IT service management (ITSM) scenarios or elsewhere, there's sadly no operating manual for how one should lead teams effectively. And leadership training for new managers and leaders is often not part of the company budget. So how do you become an effective leader?
In my experience, new leaders will often stumble, fall, and overcome adversity in their new roles. It's the "discovery" phase that can be somewhat overwhelming for many people. Then, as new leaders, we often overlook simplicity and overthink things when performing every day work.
Leadership Lessons Inspired By a Six-Year Old
You might not initially relate fatherhood to leadership but, in 2009, I was blessed with the birth of my daughter Ursula which offered me a new and somewhat unique view on developing IT service desk teams.
This new way focuses on the use of storytelling and objects to help people to understand and embrace change or, more precisely, the delivery of change. It uses first-hand stories of my experiences raising children along with the Learn It, Teach It, and Apply It (LTA) principle to build confidence and "shape" subject matter experts (SMEs) in the workplace – in this instance a service desk team.
Please read on for more detail on what this involves.
Using Objects in the Workplace
I want you to go back in time for a moment in your mind. Think about elementary/primary school…
Do you remember "show and tell"? It's a common exercise to show an audience something and then to tell them about it. In the United Kingdom, North America, New Zealand, and Australia, it's a common classroom activity for young children – used to teach them the skills of confidence, public speaking, and the importance of sharing information that has value to them.
Jumping back to present day, you too can successfully bring objects into the workplace to enhance a given point that you're delivering. For instance, an object I've used to illustrate a point and to build confidence is "Orgone Energy." It's a pseudoscientific and spiritual concept described as an esoteric energy, or hypothetical universal life force, originally proposed in the 1930s by Wilhelm Reich.
Instilling Confidence with an Object
The average person will make 773,618 decisions over a lifetime – and will apparently come to regret 143,262 of them. And, in the technical support world we work in, we need to instill confidence when troubleshooting. I use this Orgone energy object to reinforce why it's important to sell yourselves as technicians, and that we need to wear both sales and technical hats when speaking with customers.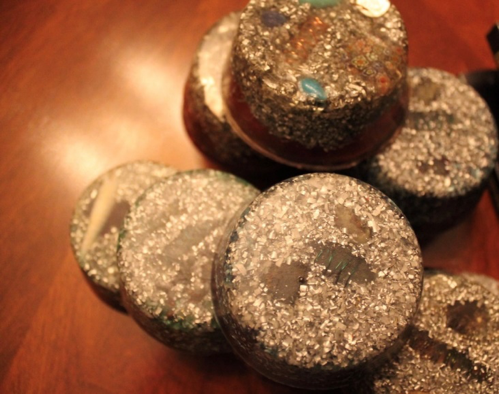 During an informal gathering, I will pass the object around the room. I tell my team to feel the object and I explain its origin, and that when the item is close by it's supposed to give a life energy to provide good health and to possibly prevent cancer. Next I ask: "Knowing the history of this object and its energy, how many of you want to keep one and try it out?" Everyone usually drinks the Kool-Aid, but why?
It's because of the pitch and sounding confident, even when you really don't know too much about the product. After my last demonstration, I had members of my team approach me to ask if I had made it all up. But whether I had made it up or not, sounding authentic and believable is what we need to do at all times.
Story Telling – The Origin of God's Vision
When making changes in your department it's important to utilize stories to show that change is acceptable and happening all around us. One of the examples I use for selling change in the department is the "Origin of God's Vision," noted below.

Your perception of an idea is usually based on your observations, which could lead your mind into misdirection. For example, do you believe God to be sexist? Let me explain why I say this…
Think about it for a minute – did God deliberately make man superior to woman? Is this the perception we have engraved into our minds? Consider the following:
When we watch movies, lines such as "For all of mankind as you know it" are often said. Notice that I've underlined the word "man."
For many years, highway construction workers put up signs that said: "Men Working."
When our children want to build something out of snow, what do they call it? They surely don't say snow person, they say "I want to build a snowman." Again, the word "man" is embedded into our minds and how we have phrased things over many years.
Because since the dawn of time – let's call it the origin of God's vision – men and women have been seen as different. Men and women had their roles, and society has reinforced the differences (and often inequality). But thankfully, as time has moved on, our perceptions of what a person, rather than a sex, is capable of has most certainly changed. My point is that we need to question the perceptions we have and how they have influenced our thinking.
In terms of your workplace, understand what your team may believe in and how they arrives at their conclusions. And, just because it's how it has been, it doesn't mean that the perception or the end result cannot be changed. It can, point in case with the above example.
Hear More at SITS17
Want to find out more about the use of storytelling and objects at work? I'll be presenting at the Service Desk & IT Support Show (SITS17) which takes place on 7-8 June 2017 at London Olympia, featuring more than 80 exhibitors and the largest free education program in the industry.
My session on Leadership Lessons Inspired by a Six-Year Old will take place on June 7th at 10:30am and will offer attendees the following key learnings:
How to bring lessons from home into work
How to discover the power of the "Learn It, Teach It, Apply It" principle
How to avoid tunnel vision to find the answers you really need
You can register for a free visitor pass here, with free tickets for all seminars available on the day on a first come, first served basis from the Seminar Registration Desk. But you can alternatively pre-book seminars for just £6 per session (including VAT) when pre-registering.
A Note from itSMF UK
Also, in collaboration with SITS17, itSMF UK is holding the Professional Service Management Awards (PSMA17) on the evening of June 7th offering a unique opportunity for you to:
Hear about the future of ITSM and the wider service management industry.
Play your part in the formalization of service management as a recognized profession.
Collaborate with other forward-thinking service management professionals, to informally "sow the seeds" that will eventually take the industry forward.
Create new industry relationships that will help both you and the company you work for.
To attend the awards, please register here.