This is the most exciting time EVER to be in IT….but are we up to IT!?' was the theme of my session at the annual itSMF UK conference – ITSM17 – last week, in a very grey and wet Manchester. The weather reflecting the mood in my session title. However, although the sun didn't break through in the Manchester weather, it did break through in the conference. There was a real buzz and I felt a positive shift in attitudes, awareness, and focus. There was more content around an increased desire to shift IT from being a service provider to a strategic partner, and a desire to shift from process outputs to business outcomes. In fact, the twitter cloud tag revealed that 'Business' was the most tweeted word!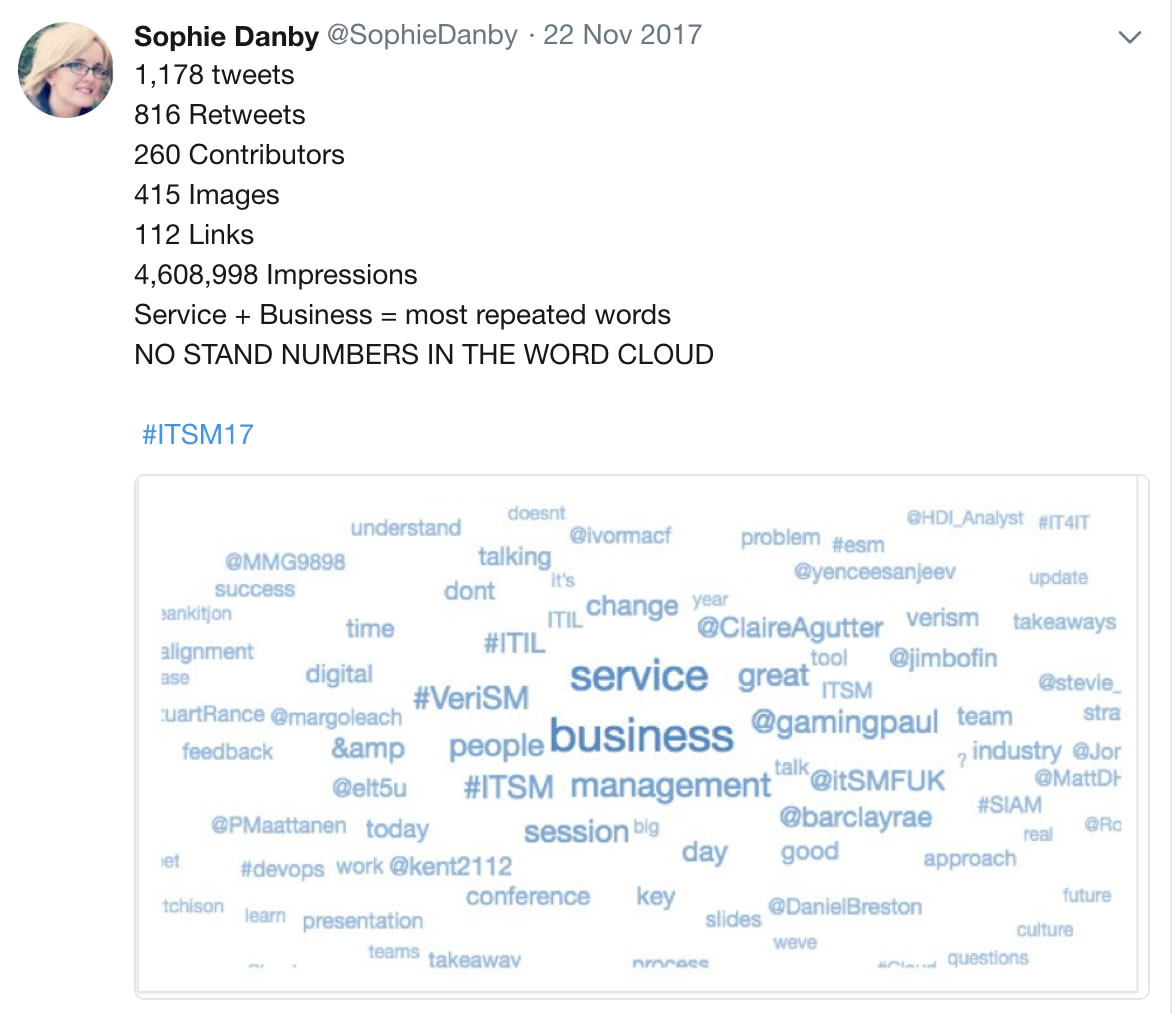 This buzz was specifically evident on day two of the conference with the announcement of the new VeriSM approach and the update to ITIL. Both of these initiatives aimed at shifting the focus from frameworks to value and outcomes, and as Claire Agutter mentioned in her VeriSM announcement 'It is time for IT to take the lead'.  This also mirrored the mood shift I wanted to create 'No more victim, poor us, the business doesn't understand us' to taking a more pro-active lead.
In my session I quoted Brian Johnson 'IT is too important to be left to IT' but I went on to add, 'But the business isn't mature enough either'! Here is a link to my pre-conference article explaining the background to my statements. Business and IT have a rocky relationship. Digital Transformation is the latest industry buzzword, which is a reason that 'Business and IT-Alignment' is once again a C-level concern. Yet it appears that neither IT nor the business is mature or capable enough to capitalise on this. However, this growing strategic role for IT means we can no longer afford to fail, which is why a marriage guidance counsellor is needed to heal the relationship and give both parties a roadmap for moving forward.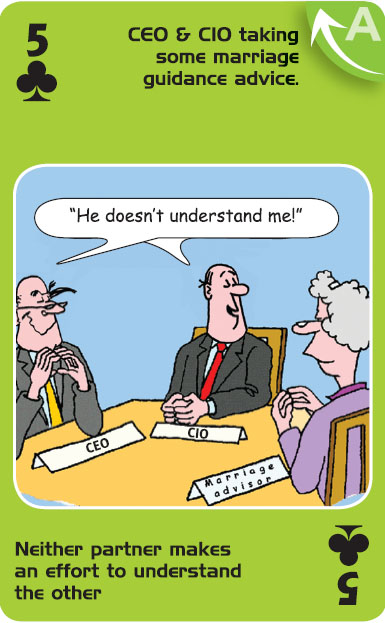 Who needs to play this marriage guidance counsellor role? Back to what Claire said 'It is time for IT to take the lead'. Enter the business relationship management (brm) role and capability.
I was honored to have been asked by itSMF UK to participate in the Conference Analysis Team (aka CAT team), to visit a number of sessions and to take notes. There were indeed some cool CATS in the team, I represented one of the Dinosaurs. This short article sums up some of my observations and feeling for optimism.
IT and Business Behaviour
The first session I attended was 'Behaviour and Relationships in Professional Service Management' facilitated by Mark Smalley. The session focused on the shift of behaviour required from both the business and IT. 'Behaviour is the weakest link in realising business value'. Some key behaviours being:
IT needs to:
Understand the business and IT's impact (which is the same as our top scoring Attitude, Behavior, Culture (ABC) card, worldwide from more than 4000 organisations).
Engage with the business and follow shared goal(s)
Talk benefits costs risks not technology
Suggest innovation (to solve business problems, not sell new technology)
The business needs to:
Articulate strategy and needs clearly, and keep IT updated
Determine risk appetite and priorities, and take decisions (which is the same as our number three ABC card – everything has the highest priority according to the business)
Engage and participate with IT
Invest in digital skills
'Trust' and the 'co-creation of value' were stressed by Mark. We won't get the trust so long as these behaviours persist, and without the trust we won't be seen as a strategic partner – helping the business 'co-create'. But these behaviours have been around for the last 20 years or more! These represent deep routed cultural challenges between business and IT. Another top scoring ABC card is 'The them and us culture'! (These are the top scores from Mark's workshops so far).
All of this supports my call for BRM as a CORE capability to tackle these relationship issues. Which perhaps is why this is a fast growing best practice.
The Role of BRM
The next session I attended was 'Getting a seat at the Decision Making table' with Jon Baxter which stressed the need for becoming a strategic partner using BRM capabilities. Jon explained that his first BRM role was like 'Triage in an A&E' unit. Fielding complaints from the business, IT, and suppliers. Jon hit the nail on the head for me stating 'Application is what counts' which Roy Atkinson echoed in his closing keynote – it doesn't matter which framework or practice we adopt 'It doesn't work if it is not applied'. Which I also covered as an issue in my session 'the need to translate theory into practice' is something we are poor at, and then we blame the best practice!
Jon stressed that our first goal must be to 'build credibility' and at the same time 'leverage credibility' to become a trusted advisor and ultimately a strategic partner. This built upon Mark's story. The need for 'trust', trust coming from credibility. Start with relationship management and value management capabilities urged Jon.
Alignment vs Convergence?
My third attended session was 'IT-'Alignment' – It doesn't work' by Simon Kent. I often get accused of being hyper active and leaping around the stage. In comparison to Simon I look like I'm on sedatives. Simon gave a passionate plea for dropping 'alignment' which has been around for 40 years! And obviously isn't working! He said we should shift the ambition to 'convergence'.
One of Simon's suggestions was then picked up and referred to in a number of sessions. 'Stop using the words 'the business' – we ARE the business!' He called for dropping the 'service provider – alignment mentality' of being an order taker and follower to becoming a strategic business partner helping lead and shape business strategy and demand. Nice ambitions! But let's not start trying to run before we can walk.
In my session I countered part of Simon's plea for convergence. I totally agree with this as an ambition. However, I revealed some current issues which show the need for alignment in certain areas before we can start talking about 'convergence' and being a 'strategic partner'.
I showed a dictionary definition of Alignment: 'Change something so that it has a correct relationship to something else'. We certainly don't have the correct relationship at the moment!
As Mark and Jon had already explained. 'Trust' and 'credibility' are barriers to becoming a strategic partner. Here are some key trends and challenges from a series of global simulation workshops which clearly reveal that IT service management (ITSM) capabilities are a barrier! Jon revealed in his study that the majority of organisations are still either a service provider or still struggling to deliver on the service provider promises. I revealed in my session that 70% of IT investments don't deliver business value – billions are lost every year because of downtime. Communication between IT and non-IT is in a state of crises. There is talk of a chasm. This is not the basis for 'convergence'. But it isn't just IT that needs to up its game. An Isaca study revealed 'More business involvement in the Governance of Enterprise IT (GEIT) is required' and highlighting a low maturity score on benefits realisation'. Jon's survey also revealed that ''Value management is unfortunately the least skilled competency in the IT business partner domain'. Here is also another article explaining the 'Value' challenge.
It is my opinion, that until we can align our 'language', align our understanding of goals and ambitions, align our behaviours and thinking, we will not be able to converge. Both business and IT will need to change. Here is an example of the language challenges we in IT must overcome.
Key Findings
In the panel session led by the CAT team, we gave back some of the key topics and findings from all of the sessions. I won't go into those here. I will however say that one delegate challenged the panel, in fact in my mind he challenged itSMF UK, AXELOS and all of the ITSM framework owners 'How to get a session at a business conference or with a business team to convince them of the value of ITSM… because they don't care about it. They're not interested'. Here is one example from my own experience, not at a business conference, but to the board of Directors for gaining commitment to ITSM AND for changing business behaviours.
In the panel we asked 'how many people have gained some concrete takeaways they can use'? Then 'How many will ACTUALLY go back and use them'? We also challenged the people who put their hands up to nominate themselves for a speaking slot at #ITSM18 to come and explain what they did to help shift ITSM to the strategic partner role we're all looking for.
James Finister in one of his his panel statements said 'If you only take one thing away from #ITSM17: go back to the office and start challenging what you do, just because you've always done it doesn't mean it's still providing value'.
Finally, Roy Atkinson closed the conference with his keynote and added a slide from one of my 2017 sessions. 'The fact that business and IT-alignment has been a top issue for 15 years clearly shows that current approaches to closing the gap are not working'.
I am curious to see how many people will use the takeaways and how many will come back and present next year. Me being a #Gromit 'Grumpy Old Man in IT' I'm cynical. One of the top scoring ABC cards chosen in world-wide workshops = 'Not my responsibility'.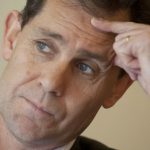 Paul has been involved in the IT industry for more than 25 years and has a broad background in IT operations, IT management and product innovation and development. He was project team lead in the original BITE (Business & IT Excellence) process modeling of ITIL, an ITIL V2 author and member of the ITIL V3 advisory group. He is co-owner of GamingWorks and co-developer of a range of business simulations focusing on IT Service management, Project management, Business Process management, Business and IT alignment, Alliance management and co-author and developer of the ABC of ICT products and publications.