2021 is already shaping up to be an exciting year for itSMF UK. Writing this at the time of the pandemic and lockdowns might sound odd so stick with me on this.
Aside from the packed calendar of webinars, masterclasses, members meetups and forums – more of which here – we've just introduced the Communities of Practice (CoPs) to provide a real focus for member engagement and interaction.
The topic of this blog is the Strategy and Planning CoP of which I am Chair. For me it is especially exciting to turn months of planning and preparation into positive action, when we will see this and the other two CoPs deliver real benefits for the itSMF UK membership.
What are the Communities of Practice?
Where have you been?!
Joking aside, the CoPs were introduced at the ITSM2020 Conference. We were delighted at the buzz they created, with strong positive feedback from members both during the session itself and in the chat rooms afterwards.
For any new readers the best starting point is the Communities of Practice area on the itSMF UK website. I'm not going to dive into detail in this blog about what each group will cover, but the Communities page will tell you everything you need to know to get involved.
Following the launch at Conference, the three chairs and Claire Burn (Director of Member Groups) held a follow-up meeting for members on 25th January. We were delighted at the large number of attendees; if you couldn't make it (or want to re-watch it), the recording is now available here.
It takes more than a Chair to make a Community of Practice, and I'm grateful to a number of volunteers who have come forward to work with us to shape and develop the new groups. It is not too late to express an interest: you can find contact details on the Communities of Practice page (and in my signature at the end of this blog).
We have been asked what the time commitment would be. The Chairs all have day jobs too, so we definitely recognise that any contribution to the CoPs will have to be balanced with work and personal commitments. If you have some time (no matter how little) and are passionate about being part of a community to share IT Service Management best practice, then we'd love to have you on board!
Tell me about Strategy and Planning!
The other Chairs (Cristan and Richard) and I had an interesting discussion with Claire about the specific focus for each Community, and who would look after which. In the end it came down to what we were each passionate about, and Strategy and Planning felt like the biggest challenge to me.
In my working environment we typically don't talk about Strategy or Planning for Service Management. That doesn't mean we think they are unimportant and would often advocate loudly that they are essential for the services we manage for our customers and consumers. But to paraphrase someone I once used to work with, perhaps we suffer by ignoring our own best practice approach.
Now I do enjoy a challenge so that is part of the reason why I was keen to Chair the Strategy and Planning CoP.
There is more to it than that though. I have seen the positive benefits that an active service strategy can provide, especially when it aligns to (or even better, forms part of) a business strategy. This can include elements of IT architectural practice as well as a roadmap for service management frameworks and toolsets. Plus, looking beyond our own organisations and sectors, it can give us a broader view of emerging industry and service trends.
As I mentioned, of course, all of this needs to align with the business strategy. For example it would not be aligned to follow a service strategy that prioritises office-based service support if the business is promoting working at home in the light of the pandemic.
Below was the first slide that I shared in the recent Community of Practice launch event to explain my thinking on how I envisaged the main elements of strategy and planning. You'll see examples of strategy, and some for planning, where those service strategies are turned into plans and schedules.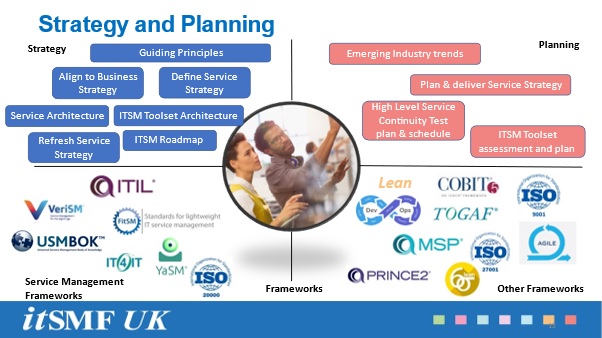 Maybe you were as inspired as I was by Daniel Breston's recent "Getting started with value stream mapping" webinar? That could form a key part of digital transformation strategy, by using the power of value stream mapping to drive leaner and more efficient services for your organisation. In this instance, the planning phase would set out a roadmap of priority for value streams to work on, perhaps starting with the thought provoking "Kill the CAB" example that Daniel presented.
This is a virtuous circle, where I see the volunteers and wider itSMF UK membership helping to lead and shape what they would like to see our webinars, masterclasses and Conference sessions covering. And the good practice that comes from those itSMF UK events will help to inform the thinking and outputs of the CoPs.
These are member-driven Communities. I am especially looking forward to hearing how the volunteers see Strategy and Planning shaping up as a CoP; and hearing examples of what has worked well and where mistakes have been made which can be shared to help others avoid repeating them. I'd like to hear what types of good practice guidance we can add to itSMF's offerings that would really add value. And, last but not least, I want to get feedback from you as itSMF UK members as to what value and benefits the Communities of Practice can bring to you.
Hopefully you are starting to see why I am so excited about the opportunities we have here?
Frameworks
What I haven't covered yet is the frameworks. By which I mean both the Service Management frameworks which we are all familiar with, and the wider frameworks which our businesses adopt and work with.
No framework is an island, no matter how good the practices within it are. Even within Service Management an organisation which has adopted ITIL4 can also benefit from elements from other service frameworks such as the Management Mesh from VeriSM.
One of the many things that has impressed me with ITIL4 is the encouragement to recognise and engage with other methodologies and frameworks. That may be DevOps, Lean or Agile as part of the High Velocity IT book; or it may be COBIT to shape risks and controls for increasingly digital organisations.
It seems to me that the key to success will be for us to work across frameworks in a joined up and complementary way. Each has ingredients that will help enable business outcomes and, when combined by a skilful cook with the right recipe, will bring delicious results.
As luck would have it this blog is very well timed. Daniel Breston has a second itSMF UK webinar coming up shortly on how to blend best practice frameworks. This will be on the 11th February, and I've already signed up. If you'd like more details or to book onto the webinar, check out the details here.
Stay tuned
For this blog I've focussed on Strategy and Planning as my Community of Practice. Cristan, Richard and I are working closely as Chairs, and will occasionally attend each other's Community meetings. If you'd like to find out more about Design and Transition or Management of Service then I know they would love to hear from you. Again, the CoP area is the place to start.
Thanks again to all those who have stepped forward so far – it makes all the preparation work worthwhile. But we're keen to attract more volunteers, so please do get in touch, even if you are unsure and would just like to know more.
As Chairs we are keen to get moving. The hard work starts now and kick-off events for each of the Communities will be scheduled shortly. Stay tuned to the itSMF UK website for the latest news, and watch out for the CoP discussion forums that we'll be launching shortly.
It is now time to stop talking about it and to start bringing the Communities of Practice to life to deliver benefits for all itSMF UK members.
Mark Burgess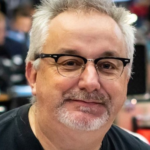 Mark Burgess is a Service Management Consultant, experienced Programme and Portfolio Manager, and itSMF UK Strategy and Planning Community of Practice Chair