February 18 15:55 EST (20:55 GMT) Perseverance lands on Mars.
Unfortunately this was somewhat later than the itSMF UK MarsLander team, who successfully completed their touchdown at 15:30 GMT. Pipped at the post!
The Marslander online workshop is an interactive, experiential learning exercise in which a team is challenged to apply new agile ways of working such as agile, DevOps, Lean and ITIL4 principles and practices.
In the simulation the team works for a space agency, SPACE-Y, facing a lot of competition from Space-X, NASA, China, Russia, India and now even the UAE. Agility and speed are what count in order to remain competitive and to attract and retain customers.
So if our team pipped NASA at the post, what made them a winning team?
POP! This wasn't the sound of the champagne corks popping as the itSMF team succeeded. POP was the critical success factor discovered by the team – the Power Of People.
At the start of the simulation things were not going well. It was only when we really started reflecting on the people side of the equation that we accelerated our value-generating capabilities.
In this short article I want to explain some of the key POP discoveries and takeaways that made the team successful:
New agile ways of working require a different mindset, behaviours and culture than what we are used to in ITSM. A shift from output to outcomes, from SLAs to value, from silos to value streams, from managed resources to empowered teams, from implementations to continual improvement.
This shift represents for many a transformation, which brings with it fear, uncertainty and doubt. It is all happening at pace and it is vital that it succeeds in this age of massive digital disruption. This is coupled with the challenges of remote working enforced upon us by COVID. All this puts pressure on teams to perform.
Adopting the guiding principles (ITIL®4) can help to create new mindsets, shape the right behaviours and foster the right culture. Particularly valuable in this respect are Focus on value, Collaborate and promote visibility and Progress iteratively with feedback.
Online remote working brings with it new challenges in terms of communication and collaboration skills. This includes the importance of active listening, avoiding assumptions, and confirming understanding.
Not everybody is comfortable with the new ways of working and the pace of the change.
Leading change means confirming whether individuals and teams need coaching to help them adapt.
Focus on value means we have to engage differently with our business colleagues to understand what value is and how to use this to effectively prioritise work – especially when there are scarce resources and conflicting demands from the business.
Situational awareness and transparency are needed to enable fast, effective decision making. This means getting together to Collaborate and promote visibility.
Between the game rounds in the simulation we practised progress iteratively with feedback.
I asked the team: What worked well, what do we need to work on, are there any unanswered questions, what ideas can we try'? Each person was asked to make two sticky post-it notes, put their name on them and pin them on the board.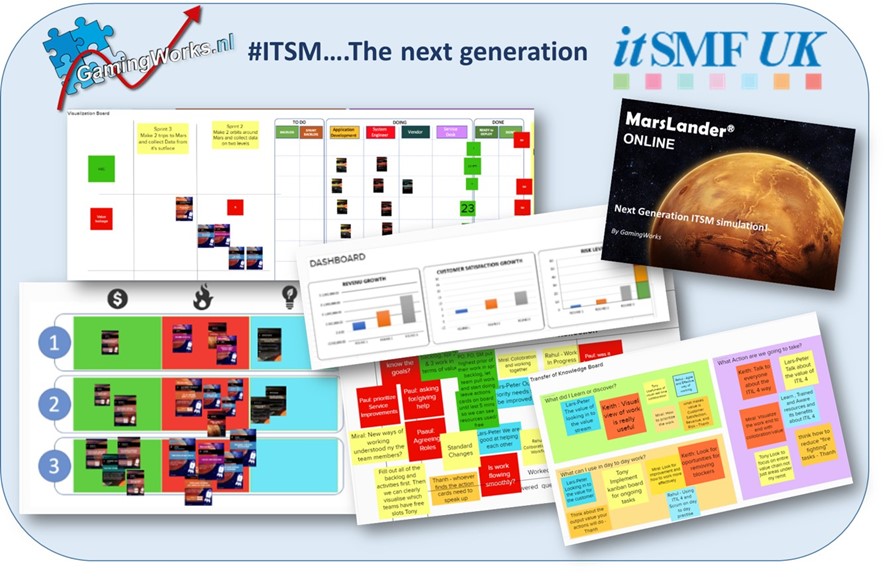 The post-it notes initially highlighted negative feelings about areas of work such as 'roles unclear', 'not sticking to process', 'not sure how to prioritise work', 'goals unknown', 'unclear who is working on what', 'no improvement prioritisation'.
However, there was no feedback on the aspects of the task relating to #mentalwellbeing such as fear, uncertainty and doubt until I prompted a reaction with another question. How does it feel adopting new end-to-end ways of working and having to use the online collaboration tool? Is it frustrating?
Again the participants were asked for their comments and only then did we hear about stress, frustration, lack of self-confidence, not daring to admit the need for help. If this had not been asked it would have remained unspoken and invisible.
When #mentalwellbeing became visible the team started offering help. They suggested the need for mentoring and coaching. Only when we made it visible was there a recognition that not all individuals and teams adopt change at the same speed.
I then posed another question: Do we know what we all agreed to? With all our in-depth discussions, there were numerous moments of silence filled with implicit assumptions. Could we assume that people now knew what they had agreed and what was expected of them personally?
There were many questions being raised, but in the anonymity of the online blackness, many questions were ignored, or additional questions popped up in the silence leaving the original question lost in space forever. Only then did we hear about 'uncertainty', 'doubt', 'lack of clarity', 'confusion' which had been the cause of mistakes, waiting, waste, poor decisions, flow of work stopping.
The team agreed to confirm all agreements, confirm understanding of what was expected and ask if help or coaching was needed.
It was clear in the end that it is the power of people that makes the difference when we are adopting new agile ways of working in this uncertain, complex, changing world with all of the digital disruption going on around us.
Managers and teams need feedback, coaching and the ability to practice new behaviours in a safe environment, learning and improving iteratively. Doing so will make the winning combination, pipping the competitors at the post. Technology and processes are there to enable the power of people.
Perseverance is perhaps a good name for the Marslander missions we are all embarking on.
The question is, are we teaching people these people-centred skills and behaviours in current best practice training courses?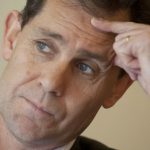 Paul has been involved in the IT industry for more than 25 years and has a broad background in IT operations, IT management and product innovation and development. He was project team lead in the original BITE (Business & IT Excellence) process modeling of ITIL, an ITIL V2 author and member of the ITIL V3 advisory group. He is co-owner of GamingWorks and co-developer of a range of business simulations focusing on IT Service management, Project management, Business Process management, Business and IT alignment, Alliance management and co-author and developer of the ABC of ICT products and publications.