Designed by GamingWorks, the developers of Apollo 13 and The Phoenix Project, this latest simulation is a powerful way to stimulate a new way of thinking and working within the IT organisation. It uses concepts from ITIL 4 to help create a dialogue and helps employees better understand how to improve their own way of working from where they are now (traditional Service Management) towards a more Agile Service Management approach, not as a large implementation project but in small incremental steps and based on their own motivation.
This simulation was organised by itSMF UK for groups in London (hosted by Code and Content on Oct 3rd) and Manchester (hosted by Network Rail on Oct 4th). The events were delivered by GamingWorks' partner Smalley.IT.  Stuart Rance of Optimal Service Management supported the London event by sharing his knowledge as one of the key contributors to ITIL 4 Foundation and Managing Professional Transition.
Participants' concerns
Both events started with the participants from public and private organisations sharing their concerns at work. These covered a broad range of areas.
Services
Digital customer experience
Quality of service
Lack of consistency across services
Work
Prioritising work according to business value
Dealing with varying risk appetites
Collaboration
Collaboration with other disciplines
Getting information from stakeholders to support post-incident reviews for lower-level incidents
Integration of a service provider that has direct contact with business lines
Winning Agile hearts and minds for ITSM (different cultures)
Teams
Ways of working
Combining a high velocity way of working for some lines of business with more traditional approaches for other parts of the business that require a high degree of governance
Finding the right degree of standardisation of the way of working
Silos and silo-thinking
Organising disaster recovery (and other concerns) for cloud-based platforms
Mergers and acquisitions
Maintaining normal services during a merger that demands additional services (e.g. duplicate tooling)
Organisational transitioning following an acquisition
Information and knowledge
Interoperability of tooling – information exchange
Getting buy-in for knowledge sharing (meetups etc)
Operational
Catching events quickly (feedback)
Dealing with high volume of incidents
MarsLander business simulation
MarsLander simulates launching a rocket that takes the MarsLander vehicle to Mars and collects valuable data that is sold to universities and research centres. The team comprises various roles: flight operations, sales director, customer service, product owner, dev and ops practitioners, service desk, a vendor, and a service manager who uses ITIL 4 concepts to continually improve the team's performance. Various ITIL 4 concepts were directly or indirectly referred to by the team.
ITIL 4 concepts
The service value stream was the focal point in the game – getting work done. As opposed to the service value chain, which is an abstract description of the kinds of activities that an organisation performs, a service value stream is where the action happens. You can see a service value stream in action when service provider practitioners execute work and pass on their results to another 'work station', eventually resulting in a product or service to fulfil the consumer's demand. Much of the game is about discovering and improving how work flows through the organisation's service value stream.
Several of the ITIL guiding principles were frequently referenced:
Focus on value – taking the right decisions based on data about targets and constraints such as available capacity.

Technical debt was one of the value-related topics: how much effort should you put into repairing substandard work, and what are the opportunity costs of doing it? In Site Reliability Engineering (SRE), the concept of an error budget is used to ensure that a certain amount of capacity is spent on development work for stability.
The same discussion applied to continual improvement of the way of working: what's the right balance between doing your daily work and improving your daily work?

Progress iteratively with feedback – taking things step by step and using fast feedback to refining the way of working
Collaborate and promote visibility – ensuring that everybody is involved, and using a Kanban board to share information
Think and work holistically – considering the whole service value stream, not just your own part. To quote one participant: "My now is not necessarily your now."
Co-creation of value was mentioned from time to time: you don't deliver value to the consumer – it is a subtle 'dance' in which both parties use their resources to co-create value for both parties.
Ethics was also discussed. With IT's increasing societal and economic impact, practitioners have to face the fact that they are responsible for the unintended consequences of their actions. Ethics should be an integral part of professional education, and it is one of the topics in the upcoming ITIL 4 High Velocity IT book and qualification, as are technical debt, error budget and the following topics.
Complex (adaptive) systems were recognised as being intrinsically unpredictable, meaning that you can't prevent incidents from occurring. Instead, you have to be prepared to deal with them, whenever they come. Safe-to-fail, not fail-safe. The unknowability of complex adaptive systems means that practitioners cannot guarantee that their actions will succeed. They have to take (defensible) gambles and shouldn't be blamed when things go wrong. This requires a degree of psychological safety in the workplace, that people do not fear for their reputation or position. When your people have to bet, you'd better bet on your people.
The complexity discussion triggered a question about how to deal with business people who expect 100% certainty from IT, when this simply isn't possible. There's no quick fix for this, but Stephen Covey's "first seek to understand, and then to be understood" is a good place to start. Develop a relationship with your co-workers or customers, and help them discover that your business (IT) is just as unpredictable as theirs. Assure them that you've taken measures to deal with incidents when they inevitably occur, that you are transparent about which actions you take, and that you will involve them to ensure that you understand their highest priorities.
Psychological safety was raised in London and Manchester. On both occasions, somebody said that they had tried to tell the team something, but that they felt that they weren't taken seriously. For some people, this can be stressful to say. Somebody in the London team apologised for not being attentive, which was very generous.
Takeaways
The last part of each event was spent reflecting on what could be applied at work. The main takeaways (reformulated here as actions) were:
Focus on value: take decisions based on data and prioritizing according to business value
Balance benefit realisation and technical debt
Focus on the customer and, in so doing, align business and IT
Look at the bigger picture and the desired outcomes
Improve collaboration across the value stream, and identify and organize around the weakest link (Theory of Constraints)
Visualise work and workflow, for instance with a Kanban board
Pay attention to mental health – consider, for instance, the consequences of placing introvert practitioners in product-based teams where they have to interact with customers
Be critical about what people mean when they say "we're agile"
Think about how to make Agile work in a large organisation
Understand IT from the software engineering perspective
Understand product-based teams from a customer perspective
Continually improve, using the guiding principles 'Start where you are' and 'Progress iteratively with feedback'. Conduct safe-to-fail experiments
Sustain the change effort to prevent reverting to old habits.
Quotes from feedback forms
Both events were well received, scoring an average of 5.7 out of 6.0.
"Though-provoking day"
"Simulations are a great way to learn – makes it more fun and engaging"
"Interactive event with real world learning"
"Great interaction with other people"
"Great to see ITIL and DevOps in the same world"
Further reading suggestions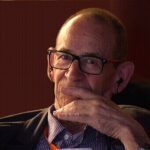 Mark was the Lead Editor of ITIL 4 High Velocity IT. Also known as The IT Paradigmologist, he thinks, writes and speaks extensively about IT 'paradigms' – in other words our changing perspectives on IT. Mark is an IT Management Consultant at Smalley.IT and delivery partner for GamingWorks' DevOps and ITSM business simulations. He is a Global Ambassador at the DevOps Agile Skills Association (DASA) and has contributed to bodies of knowledge such as ASL, BiSL, BRM, COBIT, DevOps, IT4IT, ITIL, and VeriSM. Mark has lectured at various universities and has spoken at hundreds of events in more than thirty countries.