The mission director of SPACE-Y throws the newspaper on the table.
"NASA Mars 2020 Rover gets a super new instrument," he reads out. "With its rock-zapping laser the SuperCam will enable the science team to identify the chemical and mineral make-up of its targets on the red planet."
He sighs deeply, then adds, "Ladies and Gentleman, this is unacceptable. Our competitors, even NASA, are able to get new products to market faster than we can. I want you to adopt end-to-end agile ways of working to ensure that we can deliver digitally enabled value faster. Failure is NOT an option!"
The mission director then meets the mission control team to understand the roles and how value would be achieved. Product owner, customer support, service desk, systems engineers, applications development, change & release management, vendor and service management. He stops at service management and asks, "What is your added value in this mission? The others I understand. They all build things, change things and fix things. What do you do? What is your relevance? I have heard from my development team that you just slow things down with all this ITIL stuff!"
ITIL in Action
Welcome to the MarsLander simulation. itSMF UK recently organised a second 'ITIL 4 in Action' masterclass using the MarsLander simulation to allow delegates to explore and experience how ITIL 4 can be used to align with currently accepted agile ways of working (such as Agile and DevOps) and at the same time to 'co-create' business value… if we apply it correctly!
At the start of the session delegates were asked what they wanted to learn in the masterclass. The answers were diverse:
Gain knowledge about ITIL 4 and how to fit it into agile ways of working (demands from senior leadership).
ITIL is perceived as too slow. How will ITIL 4 help address this?
How to make ITIL 4 practical. The foundation gives a lot of theory, but how do you do it?
How ITIL 4 fits in with our ITSM strategy and business operating model.
Keep up with best practice developments, ITIL 4 is the latest development we need to know about it and how it differs from ITIL 2011.
Find out how to use ITIL 4 in our service reviews.
Learn more about the ITIL 4 'secret'. It has been kept very much in the dark and suddenly announced. (This was the perception of the majority of delegates!).
ITIL is not seen as relevant among our DevOps and Agile stakeholders, how can I convince them that this is something they should invest in?
We call it 'Until' in our organisation.
Relevant? Not 'until'
Perhaps that last two statements best describe what many are looking for. ITIL is not seen as relevant, causing a cautious view on investing in ITIL 4 'until' its value has been demonstrated. The question is, how can we convince all stakeholders that ITIL 4 is relevant?
The Marslander simulation was designed exactly for these reasons. To help translate theory into practice, create end-to-end stakeholder awareness and buy-in, and to capture concrete practical takeaways on how to start using ITIL 4 to deliver value.
Start where you are
One of the guiding principles in ITIL is 'Start where you are' which is what, as mission director, I decided to do. At the start of the session I asked the following questions:
How many of you can name the guiding principles (ITIL 2011 or ITIL4)? – Nobody
How many of you have translated guiding principles into agreed behaviours? – Nobody
How many of you are doing formalised 'continual improvement' (top down and end-to-end)? – Nobody
How many of you know the definition of a service (ITIL 2011 or ITIL 4)? – Nobody
As mission director I then honestly stated, "I do not see much relevance in this ITIL stuff at the moment, most of you have certificates but do not show you understand the key concepts of what it is all about." Silence.
The scene had clearly been set. Time for some important observations.
ITIL 4 is all about value. The definition of a service is, "A means of enabling VALUE CO-CREATION by facilitating OUTCOMES that customers want to achieve, without the customer having to manage specific COSTS and RISKS." Key new concepts in ITIL 4 are the Service Value System, Service Value Chain, Service Value Streams. Yet very few even know the definition of a service, let alone what the expected and demanded value needs to be. One of the core guiding principles is, 'Focus on value'.
Co-creation requires 'collaboration'. Another guiding principle is, 'Collaborate and promote visibility'. Collaboration was also seen as a top required skill in a recent DevOps skills survey. Apparently we have difficulty collaborating as can been discovered in this article. This is the reason for the first exercise we gave delegates in this masterclass (see below).
No organisation anywhere in the world has implemented one single ITIL process from zero to optimised maturity in one go. No organisation anywhere in the world has implemented all ITIL processes in one go. Therefore ITIL is nothing more than a continual improvement approach. Yet in our global surveys fewer than 20% are doing formalised continual service improvement.
Exercise: collaboration behaviours
Exercise one was designed to start applying the guiding principles. Delegates were asked to describe the desired behaviours that demonstrate effective collaboration. This was the agreed list:
Redirect resources based on value, engage with stakeholders to determine how value is defined and used to prioritise.
Agree outcomes to be achieved.
Communicate around shared goals, confirm understanding, aligned to different stakeholder needs and language.
Provide open, honest, direct, constructive feedback. Ask for feedback.
Develop trust, by demonstrating the behaviours above.
Words to deeds
We then launched the MarsLander mission. During the simulation the team promptly ignored the list of behaviours. It was simply a list of words. Nobody agreed with the business the goals or the value to be realised. The team were working in silos, not as part of an end-to-end value chain. At the end of the first round the goals were not being achieved, primarily because they were not known. The service levels were also unknown. During the round somebody tried calling stop and suggesting a service improvement, but the team ignored this. They had no time to make improvements, despite seeing that things were not working.
As mission director I once again gave my honest feedback. "I am certainly not convinced of the relevance of ITIL at the moment."
Continual improvement
During reflection between the simulation rounds the team added new behaviors to their list for 'collaboration':
We are all responsible for confronting each other on these behaviours. We agreed them, we own them, we don't wait for managers to tell us.
Everybody is responsible for 'service improvements' – recording them, signaling them, owning them.
There is a need for coaching to embed the behaviours in 'the way we do things here' and to prevent people from falling back into old ways of working; also a need to coach people in the ITIL 4 principles.
Between each round the team reflected and agreed improvements. They made an improvement register and prioritised the improvements that would deliver the most value. At the end of the following round they would measure and visualise the impact of the improvements, providing feedback. They learnt in fact to apply the guiding principle 'progress iteratively with feedback', together with stakeholders from the end-to-end value streams.
A core model we used during reflection was the Service Value System – this provided an excellent tool for measuring our own behaviours and progress.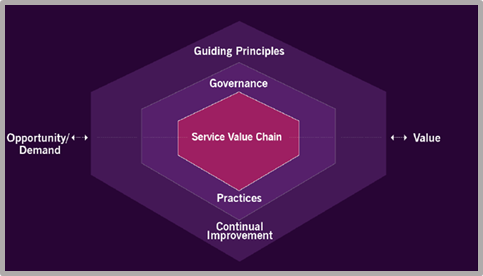 ITIL 4 Service Value System ©AXELOS
There was no visibility into the backlog of all demands and opportunities.
It was unclear what was expected to come out the other end of the value chain as value.
There was no effective governance mechanism to prioritise the different types of demands against value, outcomes, costs, risks.
The guiding principles were ignored. (Collaboration, focus on value, progress iteratively…).
There was no effort for continual improvement.
There were no clear value streams, no knowledge of how different types of demand and opportunity flowed through the streams.
There was no insight into barriers, blockers and improvement needs in the practices.
As mission director I was worried that, unless ITIL demonstrated value, my whole mission was put at risk. The team then applied improvements based around this model. At the end of the simulation goals were being achieved, there was more visibility, less waste, value was being created for all stakeholders within the value chain. Easy!
As mission director at the end of the day I said, "Finally I am seeing the relevance. I can see the impact on my business value. You all had ITIL certificates, why were you not behaving this way from the start?"
My next question was, "What aspects of ITIL 4 will you now take away and start to apply in your organisation to achieve this level of business buy-in and demonstrated value?"
These were the delegate responses:
ITIL can no longer operate in its own silo. ITIL is important and critical. It must be aligned with end-to-end practices and the business must be engaged in the governance of ITSM if ITIL is to deliver the intended value co-creation.
We need to see ITIL as a cultural, behavioral initiative more than a process framework. It requires a cultural shift of the whole organisation to focus on 'value co-creation' including the business.
The importance of the guiding principles, particularly the need to collaborate and visualise. Working with teams to define and agree behaviours that demonstrate effective collaboration and working together to visualise the backlog of demands and opportunities.
The importance of the guiding principle 'Focus on value' and the need to map the value streams for the various types of opportunities and demands and to prioritise these in terms of value. This requires understanding of the concept of value from all stakeholder perspectives.
Use the definition of a service – VOCR – to ensure that all understand why ITIL is important.
The importance of the role of the service manager to change attitudes and behaviours across the value streams, and to develop appropriate coaching skills to embed the new desired behaviours.
Work to remove the silo thinking and behavior, and focus on end-to-end business value. It is critical to engage with the business and demonstrate that ITIL is a key to success.
Work together with service teams to start identifying and mapping value streams and Identifying waste and input to CSI.
The importance of stimuating end-to-end collaboration to reduce and avoid chaos and mistrust.
CSI must become a core capability. Top down and end-to-end with a strong focus on the value of improvements, how they enable more value creation and/or reduce value leakage.
As a business analyst I will go back and see how I can add value to service management, such as providing more business intelligence about business value drivers and needs, and challenge service management professionals to communicate in terms the business understands. Ensure service improvement initiatives have genuine business cases.
Go back and agree with service desk team how we deliver value to the business and also agree with our internal stakeholders (e.g. second line or DevOps teams) how we deliver value to each other). Collaborate with other end-to-end stakeholders to agree value streams and remove waste, barriers and constraints.
Work on the collaborative agreement of value and shared goals.
The importance of 'start where you are': celebrate success and what is working, identify end-to-end improvements and don't continually reinvent the wheel.
It was clear to all that ITIL 4, if applied correctly with a focus on changing mindsets and behaviours in line with the guiding principles, can add clear business value. However it was recognised that ITIL service management professionals need to develop new skills and change their behaviours. It takes more than a certificate. It takes practice and coaching to develop the appropriate skills.
This recent blog also shows some of the long-standing issues we need to address if ITIL 4 is to be successful. If we do not address these then in a few years' time we will be blaming ITIL 4 for not working and asking for ITIL 5.
Do you want to demonstrate the value of ITIL 4 and remain relevant to the business? The choice is yours. Take a look at the practical takeaways above and see which ones you need to start applying. Here is another blog with nine practical tips.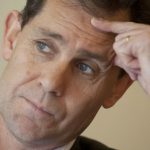 Paul has been involved in the IT industry for more than 25 years and has a broad background in IT operations, IT management and product innovation and development. He was project team lead in the original BITE (Business & IT Excellence) process modeling of ITIL, an ITIL V2 author and member of the ITIL V3 advisory group. He is co-owner of GamingWorks and co-developer of a range of business simulations focusing on IT Service management, Project management, Business Process management, Business and IT alignment, Alliance management and co-author and developer of the ABC of ICT products and publications.