Digital transformation is a large and highly convoluted subject on which many books have been written. Although I have tried to address the most essential elements of getting started with digital transformation, the focus of this article has really been on setting the right context for thinking about the topic. It is very much a brief introduction and aligns with the webinar I recently presented for itSMF UK members. I will be running a series on the topic on my professional podcast and social media channels in the upcoming weeks, so if this only whets your appetite please connect with me to continue this discussion and journey.
Digital Transformation: what is it?
A lot of buzz has erupted over the term digital transformation from around 2014 (check Google Trends). Digital transformation started as early as the 1950's through the introduction of LEO (Lyons Electronic Office) the first business computer used by Lyons tea shops. The first known application was Bakery Valuations which computed the costs of ingredients that went into bread and cakes. Shortly after that, LEO started to performed payroll for all of Lyon's workers. Banks have also been transforming from cheque to ATM cards since 1967 (Barclays in London issued the first ATM card) and now banks are using mobile apps. So digital transformation is certainly not new concept. So why the recent hype?
In 2014 the book 'Leading Digital: Turning technology into Business Transformation – McAfee, Westerman, Bonnet' was published. The book is focused on research McAfee, Westerman and Bonnet were conducting three years prior. It focused on how firms around the world and in many industries approach all things digital and what the results of their efforts where. The result of the research showed that companies who embraced digital (digital masters) were 26% more profitable than their average industry competitors, generate 9% more revenue with existing physical capacity and drive more efficiency with their existing products and processes. They keep making technologies work for them even though the technologies themselves keep changing.
It is believed that this research was the catalyst in the significant growth and interest in the topic since 2014. Fast forward 6 -7 years ago to today and digital transformation has formed substantially as a movement and its own discipline. So, what is digital transformation as a discipline then? There sadly is no clear definition to this which is common with emerging disciplines. Instead there are many definitions formed based on the context by which people are trying to apply 'Digital Transformation' as per the diagram below: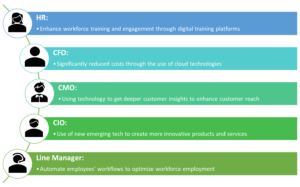 All the above perceptions can certainly be regarded as correct, but each person above has different objectives and therefore different priorities which can ultimately lead to misalignment and conflict. Therefore, a critical first step, and critical success factor for effective digital transformation is to define digital transformation and ensure this definition is continually communicated throughout the organisation to ensure everyone is aligned and moving in the same direction. It becomes the true north of all digital transformation efforts moving forward.
At present, there is still no guidance provided by a single definition for digital transformation in the industry. Based on the analysis of most of the popular definitions available along with significant research into digital transformation literature, the following definition may provide a holistic and complete view of what digital transformation represents, or what it should:
'The ability for an organization to proactively identify emerging technologies and rapidly, as well as continually, transform its strategy and operations to leverage these technologies in innovative ways to improve their customer experience, value and reach so that profits and market share can be continually grown and maintained'
de Kock, R. (2017)2
Based on this definition, we can start to see that digital transformation is a continual exercise with no clear 'end state'. In order for an organisation to remain competitive it would need to continually evolve its strategy, offerings and operations to remain competitive. To this end, one may see digital evolution as a more appropriate name.
It must be remembered that the definition above provides the essence behind the idea of digital transformation, it is not intended to be gospel. Each organisation needs to define a definition for themselves, but it is advised that the definition is routed in how efforts will benefit the organisation in the marketplace.
A definition is great and all, but ahhh… still wondering how to do it?
If an organisation wants to 'achieve' digital transformation / evolution based on the definition provided earlier, we would need to place our focus on the first three words 'the ability for'. For an organisation to be able to do anything it needs to have 'the ability' to do it. Another name for 'the ability' is capability. So, what we really need to determine is what capabilities are needed to give an organisation 'the ability' to 'proactively identify emerging technologies…'etc. The below capabilities (sometimes called pillars or themes) are the most common focused on enabling an organisation to achieve our definition provided earlier: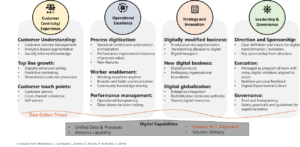 A high-level overview of each capability is provided below:
1) Customer Experience Management
"the practice of designing and reacting to customer interactions to meet or exceed customer expectations and, thus, increase customer satisfaction, loyalty and advocacy." Gartner, 2016
Customer Experience is the axis on which digital transformation / Evolution turns. Everything needs to be about providing improvement to customers experiences. Customer experience management often implies a change to the organisation's culture and strategy. For example, that customer centricity or obsession needs to become part of an organisation's fabric, whereby the customer is the constant theme to the majority of decisions and initiatives, and their experience is central to performance metrics.
Customer experience management covers several key areas such as customer journey maps, Omni Channel strategies, Voice of the Customer, and obtaining customer feedback.
2) Operational Excellence
'The objective of operational excellence is to realize efficient and effective business processes through continuous improvement and innovation' Uhl and Gollenia (2016, p.41)
Regardless of the business model designed, the technology adopted, or the customer experience practices in place, there will be no long-term effect if operations is not able to effectively and efficiently execute and deliver the required results. Operational excellence provides a platform for the other digital competencies.
Operational excellence has been described as 'managing business processes in an organization, so that their performance is outstanding. It is a central capability for any organization that wants to compete. The objective of operational excellence is to realize efficient and effective business processes through continuous improvement and innovation.
3) Strategy and Innovation
Sustained competitive advantage requires an organization to continuously review their strategy and business models in the light of customer insights (from customer experience management) and operational performance insights (from operational excellence capability).
The continual cycle of evaluation and innovation through insights from the customer/employee experience and the operational excellence competencies will ensure that the organization is continually aligning itself to immediate needs from consumers in their market (as well as others), and evolving through innovation to further defend the current market as well as to grow market share or capture new markets.
4) Leadership and Governance
Strong leadership and governance will ensure that a clear definition and vision is set for what digital readiness looks like for the organization, and will coordinated and direct all efforts to achieve that vision. Effective governance needs to be in place to ensure people are able to freely innovate and experiment in safe boundaries or guard rails to ensure these efforts, as valuable as they are, do not expose the organization to risk.
Competency in leadership and governance ensures that a roadmap for digital transformation is defined and that the organization's portfolio is effectively managed to ensure digital evolution and continued maturation of existing capabilities.
Leadership and governance play a large role in defining the organization's culture by reviewing initiatives to identify and alter behaviour patterns when they do not align to the organizations vision, as well as to keep momentum going. Leadership and governance also focus on establishing more collaborative ways of working by establishing centres of excellence and steering committees to foster communication and decision making in an agile fashion.
5) Digital Capabilities
There are many digital capabilities involved in supporting the digital transformation / evolution capabilities we highlighted here, but some of the quintessential ones have been provided here. Data and information are the blood of all the capabilities involved and there needs to be a golden thread of customer data throughout.
Clearly there are many other business and IT capabilities that are crucial for success. i.e. you can't do very much with an extremely immature project management capability, or non-existent architecture capability. What we are highlighting are the central capabilities around which all the other capabilities will likely need to be supporting.
So, what does this all mean for service management professionals
There are a variety of ways in which one can approach digital transformation / evolution, some being formal models or proprietary frameworks. But where does service management fall within all of this, and how can service management practitioners start assisting the progress of digital transformation / evolution? I have provided a few ideas below:
1) Establishing a true north
If the organisation has an adequate, well communicated, definition of digital transformation/ evolution how do we define a 'digital ready' vision around how will service management will fit into and enable the overall definition. If the organisation doesn't have an adequate, well communicated definition, then how can service management establish a coalition with business representatives to influence the creation of one? The above assumes there is a service management function of some sort, or a representation of service management.
It can be an interesting exercise to identify what role service management will play in customer experience, operational excellence, strategy and innovation or Leadership & Governance in the context of business. This can assist in driving more constructive conversations around the direction service management needs to take to enable digital transformation / evolution.
2) Understanding Parallels & Addressing business alignment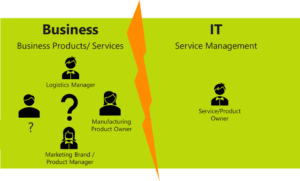 When was the last time you had a conversation with your organisations service or product marketing managers, or manufacturing product owners? Many service management professionals have not. Yet these represent our parallel counterparts. They need to manage the lifecycle of their services or products under their portfolio to ensure they provide value and remain competitive. The fact that service management as a discipline is not involved in their design or lifecycle management process is one of the testimonies to why we have a business and IT alignment issue.
We need to start having conversations with service/product ownership roles within the business to see how a coalition can be formed and how we can learn from and work closer together. In digital transformation / evolution the distinction between IT and Business services needs to diminish.
Some key questions to find the right business service / product representatives are:
1) What are the organisations customer services / products?
2) Who from business designs, or owns the lifecycle of these services / products?
3) Who is accountable for the competitiveness of these services / products?
Of course, service management needs to be clear of the value it can provide to these stakeholders prior to engaging with them. This is hopefully clarified in point 1 in terms of the role service management will play.
3) Making service management and practitioners relevant to the business
Many service management professionals got into service management due to their love of process. I certainly did. But we now need to shift our thinking and focus from processes and outputs, to value and outcomes. This means that although they are essentially important, processes should not be the focus of an engagement. They are merely one of the artefacts that need to enable value.
To this end there are many new concepts a service manager / owner needs to become intimately familiar with in order to have constructive digital transformation / evolution discussions with business as well as to have the intended impact. To this end, I have recommended the following topics and resources to assist you further on your journey: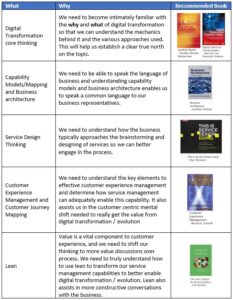 References:
Gartner. (2016). Gartner IT Glossary. Gartner. http://www.gartner.com/it-glossary/
Uhl, A., & Gollenia, L. A. (2016). Digital Enterprise Transformation: A Business-Driven Approach to Leveraging Innovative IT (A. Uhl, L. A. Gollenia, M. Born, A. Koschmider, T. Janasz, M. Rosemann, J. Ruediger, N. Safrudin, N. Labusch, R. Winter, K. MacGillavry, T. Schmiedel, J. vom Brocke, C. Meier, & A. Diallo (eds.); 1st ed.). Routleg.
de Kock, R. (2017). Digital Transformation: An Assessment of IT Service Management as an enabler. University of Northampton, Northampton, United Kingdom.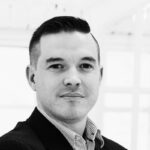 With over 16 years of experience in the Service Management Richard de Kock currently works for Microsoft where he has been assisting organisations in modernising their cloud strategies, operating models and cloud capabilities. Across the tenure of his career Richard has engaged organisations of all sizes across the globe in a variety of industry verticals to resolve complex strategic and operational challenges using a multitude of frameworks and standards.
Richard is an award-winning consultant who holds a Master of Science degree in Service Management from Northampton University in England and specialised in digital transformation practices and capabilities. Richard is currently authoring the ITIL 4 Digital & IT Strategy book and has co-authored VeriSM: Unwrapped and Applied released in 2018.