Recently I had the privilege of being asked to develop and subsequently deliver an itSMF UK workshop on "Practical DevOps" explaining:
What is DevOps?
How does DevOps blends Agile, Lean, Theory of Constraints (ToC), and IT service management (ITSM) into a common framework?
The value and principles of DevOps
Metrics that matters to DevOps
DevOps concepts like Continuous Integration and Continuous Delivery
Practical tips related to DevOps success
A Day of Post-it Notes
The workshop was designed from the very beginning to be interactive so no segment went without an exercise. For instance, as we went through the history of DevOps, I asked participants to write their own definition of DevOps on a post-it note. The answers were quite revealing in that most concentrated on the automation aspects of improvement, or just commented upon the need to align Dev teams with Ops/ITSM teams. And by the end of the day, their views had changed to be inclusive of stakeholders, vendors, and all aspects of technology service and delivery.
In fact we used post-it notes in several exercises and the group soon began to see how important visualisation was to DevOps. We used post-it notes to:
Create a manifesto of DevOps that was relevant to them (which they then compared to the Agile Manifesto and were amazed at the resemblance)
To map the flow of service provisioning from the time the idea gets requested until it's delivered. We used a Lean concept called Value Stream Mapping and created an alignment charter, visualising the current way of working with time and quality measures, mapped the future, and highlighted some iterative experiments that could be performed in each two week sprint.
Flow of Work
All of the participants were looking at introducing Scrum into their organisations. This picture (from The DevOps Institute) highlighted the view of including not only new or feature related work into your product backlog, but creating a process, the removal of technical debt, and improvement ideas.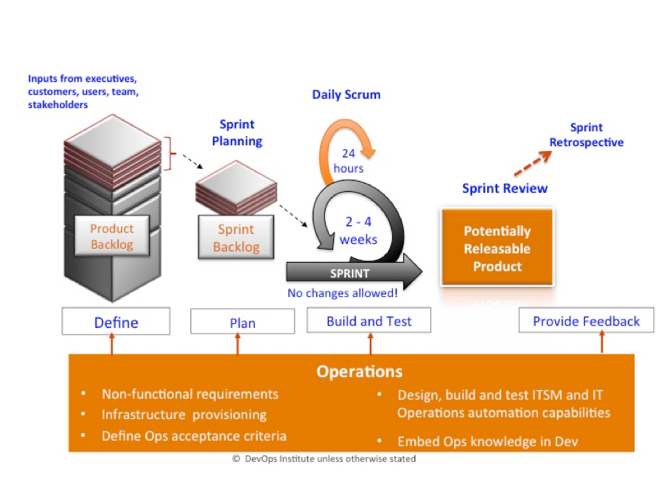 So, Metrics: Do They Matter
So, back to the workshop, using Service Level Agreements (SLAs) as an example, we discussed metrics from an ITSM view and then again from the speed and quality view of DevOps. The group created metrics, using templates on how the automation of a process could help reduce MTTR (incident time) or make collaboration better across teams by automating trust to reduce the need for a Change Advisory Board (CAB).
We reviewed Key Performance Indicators (KPIs) and how to align metrics top down and out to suppliers via a Lean technique called Catch-ball. Finally the group used their templates to create their own KPIs that they would introduce the following day at work. The template highlighted who owned the metric, the formula, the rea , frequency, what to do if the measure was breached, and the benefit of this measure.
This discussion highlighted again the principles of flow, feedback, and learning against the culture and knowledge sharing engendered by DevOps.
Tips and ITIL Principles?
Finally, we reviewed practical tips on how to get started such as:
Organisation: don't immediately create a team but instead look at how to pilot DevOps practices in your existing organisation.
Processes: all processes at some point can be automated and DevOps enables the iterative use of tools to help create faster ways of doing things.
People roles and skills: cross-functional sharing, training on not only the new tools but also cultural change, and leadership coaching are all needed.
Tools: collaboration and knowledge management is as important as testing and release/delivery automation.
The final part of the day reiterated that ITSM is a valuable part of DevOps (as often mentioned in The DevOps Handbook). We did this using the "9 Principles of ITIL" as documented in ITIL Practitioner.
At the end of the day, participants went away with a better understanding of DevOps, how it works with ITSM, and how to measure its success. The key takeaway was to try something new and iteratively introduce the practices of DevOps into their own organisations.
So how much do you know about DevOps? Would it be of value to you to learn more? I hope to run this workshop via itSMF UK again in the near future, and it's also available as an in-house event. For more information email itSMF via [email protected]. Or come and speak to me at the itSMF UK stand at the Service Desk and IT Support Show next month.
Plus, it's worth noting that itSMF UK are also running a "DevOps simulation event" on 5th July, which you can see more details on here.
In the mean time you might find some of the following resources useful:
Books:
Websites: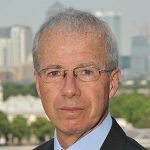 After 50 years of being or managing every conceivable role in IT, including CIO, Daniel Breston is heading towards retirement (his way of doing things). He now facilitates challenging discussions and workshops for teams that want to benefit from technology methods (Shiny New Things) and needs a way to begin that journey. Daniel is also on the board of itSMF UK, helping others share their stories.