This year's DevOps Enterprise Summit (DOES19) provided a good opportunity to catch up with one of the signature global events at the leading edge of our industry. Here are some thoughts and themes from that event, based on a few selective discussions with key figures in the DevOps community.
How do we make 'new IT' work together?
This was a question I pondered with DevOps Institute CEO (and former ITSM Academy CEO) Jayne Groll and Consultant (and former Forrester Analyst) Eveline Oehrlich.
DevOps and the other 'isms and 'ologies that are out there nowadays – agile and lean, ITIL4, BRM, ITI4IT, Verism etc. – all provide value, and many of them are now converging around people and people skills. However, moving to a more convergent 'model' seems far away. Perhaps we don't need to worry about convergence as an end-to-end model, we considered, but rather focus on areas where there is agreement and positive opportunities for collaboration.
"We need more T-shaped people, working with modern joined-up IT, not new frameworks," Jayne summed it up. "It would still be good to have at least a baseline of some generic and global principles or a frame of reference for what we do in technology. We are a global service industry, but we don't operate as a unified set of communities."
Eveline also identified that, "We are still a young industry but without a single common vocabulary, and tend to move in generational groups with their own vocabularies. We need to develop multi-faceted individuals with business awareness and emotional resonance as well as tech – this would require more of a common vocabulary that spans all IT and some business areas too."
It was interesting to hear these issues being raised with more impetus and focus than simply to be discussing the 'state of DevOps' or how do we integrate this or that framework together? I know we all get excited about our own areas and topics of interest whereas from the business perspective people just want IT stuff that works.    
I also agree that we need to find a way of developing some form of 'translation vocabulary' for IT, one that works across the board, not just in silos. This would need some critical thinking about a simple mechanism for pulling together the essential common elements across frameworks and models – not to 'integrate' them, but to provide a common way of navigating and working with more singularity and synchronicity.
How can we practically make this happen? Let me know if you have ideas!! There is plenty of convergence going on across IT, particularly around people skills – we just need more of a common language.
We all need to grow up
One theme that pervades many events these days is the idea of IT/technology moving to the next stage of maturity – of 'IT growing up'.
A key aspect of this is how we become more integrated with (non-IT) business teams and customers at all levels. Of course, this extends in particular to the executive board level and there is a clear need for technicians to become more business-savvy in their discussions. However, this works both ways, and nowadays there is a responsibility for business people to have a base-level understanding of what IT can do and how it works.
This theme has been developed by Mark Schwartz, author of A seat at the table, in which explored how IT people, CIOs and IT directors can first get access to the boardroom and then also be effective there. Schwarz's latest book, War and Peace and IT, which he profiled and presented at the DOES conference, is the next stage in this thought process and is aimed at business people and why they need to be more IT savvy.
I met with Mark and we discussed the value of some of the recent DevOps and agile methods that have helped him in various roles – most notably as CIO at the US Citizenship and Immigration Services, for which he oversaw a significant transformation from traditional silo and legacy ways of working, to an agile, empowered, and more efficient approach. This involves a lot of people and organisational change skills, with a focus on driving the organisation towards outcomes rather than silo maintenance.
Key elements in success for Schwarz include servant leadership, constant re-definition and re-enforcing of business goals, Shift Left as much as possible and developing teams that are self- organising, adaptive and able to deliver speed.
In terms of how to get business people involved and to sell new ideas and ways of working, the challenge is of course to get a seat at the table and to be able to engage with CEOs. "Speed is a great weapon to mitigate risk", he says.
A key learning point about the development of DevOps was highlighted in conversation with the newly extended team from Collabnet, also with their new acquisition partner ICON. Collabnet are an established software vendor with a track record in developing supporting DevOps technology for defect management, work management and CI/CD flow. Their acquisition of ICON, which is a consultancy company, highlights the need to provide value-added services for clients to support implementations and deliver real value.
"We've moved on the next level where we provide trusted solutions and partnership to our customers," says Eric Robertson, VP of Product Marketing. "Sometimes our clients need help to see what sort of metrics and value demonstration they can create from our products and we recognise the value of also offering experienced consultancy help."
From the ITSM experience and perspective, it's also encouraging to hear that the message is getting through to provide more organisational and practice-based support for tool implementation.
A final note on the people skills convergence theme was highlighted through a discussion with the authors of the forthcoming Team Topologies book, by Matthew Skelton and Manuel Pais. The focus for this work – which was also presented at the event – is around research and analysis of how teams actually behave and work. Observing team dynamics and specific changes in the way that people interact can be a useful sensory mechanism to support decision making – on team structure, how long to keep teams together etc. One clear output from this was the value of focussing team objectives across value streams rather than technical or project silos. I will explore this further in a later discussion.
Clearly there is a strong impetus to focus industry and strategic thinking on how to create the right environments for people at work – how they work, how they interact, how they form and structure teams effectively etc.
This is a positive move for the converging worlds of IT, DevOps, ITSM et al. I look forward to more practical manifestations of this convergence!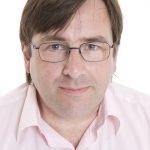 Barclay Rae has extensive experience as a consultant, analyst and subject matter expert in IT Service Management. He is the Lead Editor of ITIL 4 Create Deliver Support (CDS) Managing Professional guide, a member of the ITIL 4 Architect team and a co-author of ITIL Practitioner.
He also has considerable business and management experience in the industry, both as a consultancy vendor and also working with industry bodies and vendors such as SDI, AXELOS, APMG, and Axios. He brings industry and subject knowledge to ITSMF UK's strategic direction, as well as practical experience and commercial skills in running a small business organisation.