Martin Neville has been appointed chair of itSMF UK as part of a new Board line-up at the country's leading service management association.
Neville, a Principal Consultant at Tata Consultancy Services who has been on the itSMF UK Board for 5 years, served as Conference Chair, Finance Director and Vice Chair before assuming his new position. He replaces Rosemary Gurney of Global Knowledge, who has served as Chair of the forum since 2015 and was recently elected to the Board of itSMF International.
Replacing Martin Neville as Vice Chair is Richard Horton, Service Portfolio Manager at NIHR CRNCC, who moves from his previous role as Director for Member Groups (SIGs and Regionals).
Two further members have been co-opted to the Board as part of today's announcement:
Adrian Chiffi, Vice President, Client Engagement at CGI and a long-standing member of itSMF. Chiffi led his team at CGI to receive the first PSMF (Professional Service Management Framework) Verified Partner award in recognition of their commitment to professional development.
Claire Drake, a Service Architect at Fujitsu UK with 12 years' experience in service management. She is a regular contributor to itSMF activities as speaker, awards judge and SIG member and is also a contributing author to ITIL 4.

Claire Drake, Martin Neville and Adrian Chiffi.
Completing the new Board line-up are Claire Burn, Dave Walker and Kevin O'Brien, whose appointments were announced last month – more information here.
Martin Neville thanked the outgoing chair Rosemary Gurney for all the hard work and dedication of her Board during their term of office, and said he was delighted to be welcoming the new Directors, whose breadth of experience and interests reflected the growing diversity of the membership.
The new Board roles take effect from 1st October.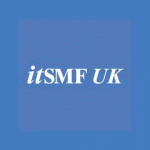 itSMF UK is the country's leading membership association for service management professionals – with members ranging from individual service management practitioners to large multinational organisations.
We have spent the last three decades helping ITSM professionals both to be better and to do better. As the first of an international network of itSMF chapters, it has followed a path of enriching the working lives of its members, as well as those who benefit from its events, training and guidance, and those recognised by its annual awards.