I have never experienced an entire virtual conference. Oh sure, I have been to some where I attended a session and left, but to participate fully in both days was a far different experience. A far more enjoyable experience!
For me ITSM2021 offered many different things:
A scavenger hunt that promoted communication and collaboration
So many sessions on almost any topic from technology and tools to the mental health of staff, diversity, change management and continual improvement
Sharing of experiences: the good, the bad and the great
Awards for outstanding teams and individuals: some for promising young professionals just beginning in service management, others highlighting the contribution of those who have helped shape the industry.
Embracing my new role as the itSMF UK Board representative for individual members, I went to any session, learned loads and met new people. The virtual platform simplified movement, helped create a calendar of events I wanted, allowed for questions at sessions, and provided a means to chat with others as and when I wanted.
Plus, thanks to the speakers and sponsors, I had over 30 downloads of knowledge to explore, from picking a tool vendor to creating a digital experience that made sense.
What did I learn?
The challenges of introducing new practices, call them agile or DevOps or ITSM, are the same the world over
But then so are the benefits if you stick with the plan and learn iteratively and collaboratively top-down.
Best question asked?
Is it more important to create revenue, solve a problem, or increase the ability of technology to enable staff to help customers? You would think the answer was apparent, but when the follow-up question is, 'which outcome does your board want?', you realise that the answers will be different, and that difference is why initiatives fail to achieve technology-enabled change and improvement.
What did we learn about itSMF?
Our organisation continues to evolve and provide new services to members:
Communities of Practice on just about any service management topic
A Leadership Forum to consider issues of strategic importance to the industry
The ability to upskill via the Professional Skills Management Framework (PSMF), with new tools for self-assessment. Where are you now? How do you create and track a plan of improvement, compare yourself to others, be ready for a challenging new role? These new tools are even beneficial for those of us slowing down in our career.
Consider the many ways that you can contribute as a member: mentoring opportunities – offering a unique way of explaining something with those who need it; creating a class which itSMF UK can host; offering a blog or podcast that we can share; and, of course, engaging with our social media.
ITSM22. Already? Absolutely!!!
Next year's face-to-face conference has been announced and a super early bird deal is available if you register now: ITSM22 Conference and Awards – itSMF UK
A gala awards dinner, maybe some workshops to attend, and more interactive sessions – not just death by PowerPoint! The search for speakers and sponsors is on. Want to speak but a little nervous? We have mentors to guide you.
It has been too long since we could 'attend' a conference, and I will treasure every moment of itSMF UK's 31st year of helping others learn. I hope you can join us!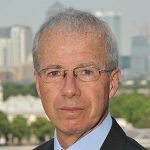 Semi-retired after 50 years in IT, Daniel is a board member of itSMF UK, blogger, speaker and mentor.