Following up on his previous blog, Candy Candappa offers some useful hints and tips on working at home – when and where to work, and how to start and stop.
Working from home has been a growing part of many people's work lives. For me, it started working at BT who were "eating their own dog food" to demonstrate that it was both possible and productive to capitalise on broadband to the home.
In more recent times I've worked for companies whose policy on office capacity was to allocate only enough space for 60% of a team to be in the office together – thus requiring you to work from home 2 days a week.
Coronavirus means than a far greater number of us are working from home than ever before. More than that, our workplace is no longer a blend of office, coffee shop, library, hot desk, shared co-working spaces, bars, restaurants, hotels, trains, planes, bookstore or even parks. For many the choice of location has gone. We only have one option – home.
For most the challenge is not simply one of location. The disruption to our normal routines means we also need to re-consider motivation and the "space/time continuum" – when we work, where we work and how we start and stop working.
Things to consider…
When to work
The default for many is to stick to your everyday schedule/shift pattern. That can work well. It provides a structure with which you are familiar and which management and colleagues understand. However, this does not recognise the other calls you may have on your time – especially if you have family at home or ill.
In these new circumstances managing your time effectively will help you be successful. But it is not just time you must manage. You need to be aware of how your ability to concentrate varies over the day. This is described as Attention Management. In his book "How to be a Productivity Ninja" Graham Allcott explores the different types of attention we are able to give:
Proactive attention – when we are focussed and ready for the most difficult tasks. This is best for:
Key decisions
Creative thinking, reporting and writing
Planning and reviewing
Critical emails
Phone calls where you need to listen intently
Chairing meetings.
Active attention – when we are ticking along. This is best for:
Day to day decisions
Attending meetings you want to contribute to or learn from
Internet research
Most email
Scheduling work and keeping on top of task lists.
Inactive attention – when we are present but with limited brainpower available. This is best for:
Filing and printing
Attending meetings you don't care about but can't avoid
Tidying emails or paperwork.
You should analyse your day and its work and family demands, consider when you can give each type of attention and schedule your work accordingly.
As well as other calls on your time, your space challenges may make working more difficult when the rest of your family/housemates are active. Getting up early and doing some tasks before others invade your space works for some. Night owls might prefer to work later or after others are in bed. Breaking your day into chunks of time that you focus on work with other chunks that you set aside for your other/family commitments will remove tension between competing time/attention demands.
Once you've concluded how your day needs to be run, explain to your boss how you will structure your day to get your work done. Once you have their agreement, share your schedule with your colleagues so that everyone's expectation is set correctly.
Where to work
If you are lucky, you have sufficient space to create a dedicated "home office". This allows you to separate your home and work life spatially. It is also likely to improve your productivity as you reduce distractions and provides a substitute for the "commute" trigger as you move from your home/family space to your workspace.
If you are luckier still you may have a second monitor to extend your computer's screen, space for filing, printing and perhaps copying facilities and a headset for conference calls – all of which make some types of work much easier.
Even if all you can do is move a bed to make space for a small table that might be enough to create a haven that greatly improves your productivity.
But for many it is the kitchen table or sofa that becomes the home office. This is perfectly acceptable but becomes much more difficult if you share your "office" space with others, especially children. Your ability to concentrate is compromised and you will be constrained in terms of setting out your workplace, paperwork etc to suit your needs. Your office sharers make video and conference calls more challenging too – as Professor Robert Kelly can attest.
To create some focus headphones will allow you to limit the sounds of the house distracting you. Better still if you establish a rule in your house that you don't want to be disturbed whilst you have your headphones on – that will produce a bubble of concentration for you. Remember to take them off periodically to signal to others that it's their turn to get your attention if needed.
Setting up a home office can prove a nightmare for non-technical people. It's the technical equivalent of building flat-pack furniture but without the pictorial how-to guide. Make the most of the support your service desk or tech support team provides if you have access to one (or suggest to your boss that they should extend their reach to help home-workers). If you don't have corporate tech support, try to find a tech-savvy friend who can help you reduce the frustration.
We are going to be moving less than normal. Try to build in some healthy habits, e.g. have a wholesome snack bowl in your work area to stop you visiting the fridge. Stand up to take calls – it has health and call quality benefits. Re-energise by taking a break in your garden (if you have one) or exercising or by doing a short, non-work task.
How to start (and stop) working
For most of us, we have a daily routine which includes triggers that make us start to think about and get into the mindset for work. These could include:
getting into work clothes – e.g. a uniform or a suit or protective gear
a specific time – the 9-5 or start of shift
a commute or change of location
the clearing or set up of a workspace
an event – kids going to school, the market opening, the start of day briefing.
Our routines have been disrupted. Many of the triggers are no longer operating.
Replacing them with a new routine that suits our modified circumstances and our family/home demands may be appropriate for you. Finding new triggers to support your home working routine will help you make the step to start.
Some people like to replicate their regular routine – getting dressed as usual, sticking to customary start, break and finishing times. There have been suggestions that children should wear their uniforms during the day to provide a psychological and visual reinforcement that they are still "at school".
Establish start of work rituals. Whether it is clearing/setting up the space or moving to your "home office". Advise your family or cohabitees that you are working and prefer not to be disturbed until hh:mm if possible. Have a plan for what you intend to achieve/produce in each work session. Use music or headphones to block out the intrusion of external noise. Turn off/mute personal comms & social media. Fire up your computer. Turn on your team comms.
Keep track of time. Our ability to concentrate ranges from 20 to 120 minutes. And you will need to check on others in your household periodically.
Remember to take breaks. Remember to eat. Remember to start work again.
It is important to establish and end of day routine. Close all the windows/tabs you've opened on your computer. Sign off applications. Shut things down. Switch from business to personal comms. A clear desk policy makes it easier to start the next day (and reduces the temptation to dip in and do a bit more work during what should be your personal or family time).
…and of course, the office cleaners won't be coming round so clear away your dirty cups and food plates, the sweet wrappers, the debris of the workday.
Once that is all done, start your evening. Draw a line under the workday by walking the dog or having a glass of wine or catching up with family or friends.
Everyone's circumstances are different and working from home will require many adjustments and some trial and error.
Be thoughtful of those around you. Be kind to yourself!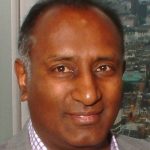 Candy is an innovative and results-focused IT and programme management executive with experience across diverse markets.